Tekken Tag Tournament 2

Format: Xbox 360
Namco
RRP: £49.99
1053503
3 391891 963848
Age Restrictions: 16+
Available 14 September 2012
Never underestimate the heart of a champion. The original tag team fighter that started it all is back. Tekken Tag Tournament 2 delivers new and returning characters in the largest roster ever. Experience the most advanced attack mechanics, ultimate combo move sets and new battle modes. With innovative features to broaden Tekken consumer accessibility, unlimited fighter combinations & multiple ways to challenge your friends - get ready for the next battle...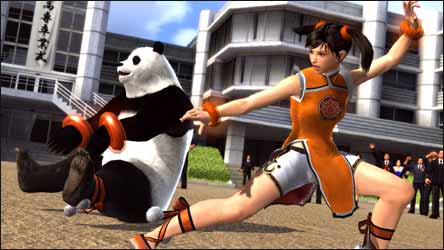 Tekken 2 was one of the game I played most on the original Playstation, and while Tekken 3 was a pretty neat follow on, I have to admit that I've sort of fallen out with the franchise after some mediocre offerings. Thankfully Tekken Tag Tournament 2 brings back some of that old magic to the franchise.
Unlike the previous games, you can't really button mash your way through the levels - you'll need to be a little more smart with your blocking.
There's so much to explore and play that hardcore fans and the casual gamer will both find much to champion here. You can play online against other competitors from around the world in various game modes.
Offline you have Arcade Battles (which is your classic beat nine opponents mode to unlock that character's story video clip); Ghost Battle (an ongoing fight against wave after wave of enemy - great for leveling up your characters); Vs Battle (fight a friend on the same console); Team Battle (8 Vs 8 character fight); Time Match (clear 'Arcade' mode as fast as possible); Survival (fight until you die); Practice; and Pair Play (a new game where up to four people on one console can play. When you tag your team mate they take over the fighting).
Fight Lab is like a story mode crossed with an in depth tutorial; Customize (allows you to change the appearance of your characters); Tekken Tunes (and you can change background fight music); Gallery (check out all films you've unlocked so far); and Profile (check out all your characters progress and usage stats as well as a replay theatre).
The game brings back many old favourite characters - some expected, others a nice surprise - but all of them have grown as the series has progressed. Obviously, there's also some new characters to keep things fresh.
Tekken Tag Tournament 2 has, for me at least, revitalised the magic that was at the heart of the original Tekken games.
9
Nick Smithson