F1 2012

Format: Xbox 360
Codemasters
RRP: £49.99
5 024866 349078
Age Restrictions: 13+
Available 21 September 2012
Feel the unparalleled thrill of becoming a Formula 1 driver with a host of new features, wide-ranging technical and game play advancements, including upgraded physics, visuals and audio, and extensive competitive and co-operative multiplayer components. F1 2012 features all of the official teams, drivers and circuits from the 2012 FIA Formula 1 World Championship, including the debut of the 2012 Formula 1 United States Grand Prix at Austin, Texas and the return of Germany's famous Hockenheim circuit to the calendar...
If you bought and enjoyed last year's (2011) F1 2011, then you'll be eager to pick up this year's offering. F1 2012 includes a number of new features, including Young Driver Test and Season Challenge.
In the Young Driver Test, learn how to handle and get the most out of the racing cars with a series of tests and videos; while Season Challenge, sees players competing across just ten races to become the number one driver on the grid.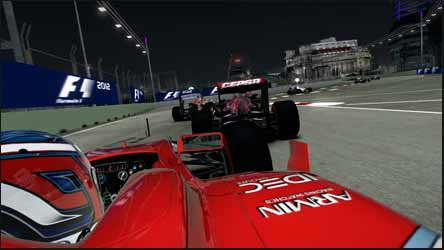 The game also feature full RaceNet integration via an automatic downloadable update. RaceNet is the free online community portal for Codemasters Racing games which tracks player's races, rewards and rivals. Here you can extend your F1 2012 experience by participating in weekly RaceNet Events, comparing their lap and race times with friends and the wider community and tracking their progress in-game with slick infographics. New and existing RaceNet community members will also be rewarded with three exclusive free in-game helmets.
The cars do handle a little differently from the last game, and there is quite a bit of technical information that you'll need to take on board if you want to improve your chances of winning, which is why there's a tutorial to ease you into the dynamics of the game. This incorporates challenges and videos and takes some time to complete, but it's worth sticking with it.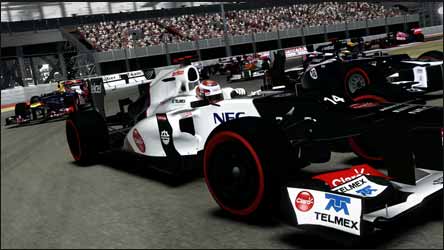 When racing in career mode there are a number of options that will ensure that everyone from the novice to expert get equal enjoyment. You can turn on and off the racing line and break assistance (which when on means you can keep your finger down on the accelerator and let the car break automatically to ensure you can make the corners without spinning off the track). Of course the more you get used to the game play, the more you can take the training wheels off.
While this won't be everyone's cup of tea, those that actually enjoy serious driving simulators will get a blast from this impressive series that just goes from strength to strength.
8
Darren Rea