Carrier Command Gaea Mission

Format: Xbox 360
Mastertronic
RRP: £49.99
5 050740 025295
Age Restrictions: 16+
Available 28 September 2012
You are the commander of a near-future aircraft carrier of immense power, with many tools and vehicles at your disposal. Landing in an unfamiliar, free-roaming environment, exploration is key and the thrill of discovery spurs you onward. The colony planetoid of Taurus is a pivotal battleground in the United Earth Coalition (UEC)'s long campaign against the rogue Asian Pacific Alliance (APA), who gained dominion over Earth in an apocalyptic conflict. The wide oceans of Taurus are dotted with resource-rich islands of varying composition and hiding many secrets. Follow the deep story coinciding with the second book of the Gaea Universe trilogy and evolve from an underdog to a skilled Carrier commander and prevail against all odds with your ragtag crew...
Carrier Command: Gaea Mission combines the action game genre with strategic elements set in a vast detailed archipelago. It reinvents the classic game play of the original Carrier Command to deliver a next-gen experience.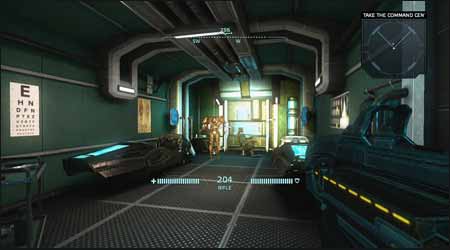 Those that pick this up without really understanding what they're getting into may be in for a bit of a surprise. The game comes with two modes: Campaign and Strategy. The Campaign is really just a long training mode to allow you to get into the main game play so that you can let rip in the complex Strategy mode.
However, if you start this thinking you're playing a first person shooter (FPS) you are going to be incredibly disappointed. The first segment of the Campaign game feels very much like a FPS - be it an extremely dated and poorly constructed one. Here the vocal acting is awful, the very basic (there's no run or jump) and glitchy feel of the controls and basic graphics (when you shoot and destroy the robot enemies they look like they've been lifted from an old Xbox game) make this feel like a lumpy mess. Some will stop playing when it all becomes too much to cope with, but stick with it... the rewards are well worth it.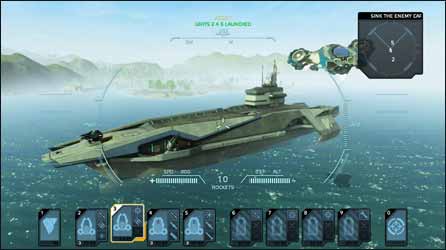 Once you complete the Campaign mode (or if you jump straight into the Strategy game armed with the manual) you'll start to appreciate what this game is all about. Here you control a Carrier that has at its disposal land and air based vessels which you can launch at your enemy to take down fortified positions and bases in order to take command of the islands. Capture one and move on to the next in your quest for dominance. You are pitted against an enemy Carrier and the number of islands you and the enemy begin with is configurable, as well as the strength of the enemy, initial resources, how fast resources are gained as well as how fast items are produced, and lastly whether the game ends if you sink the enemy carrier or when you take control of the entire Dead Zone.
You can either pilot the vessels contained in your Carrier yourself, or set them off with a set of commands which they'll follow automatically (engaging any enemy vehicles or personnel that stand in their way).
Once you get into the real meat of the game, this is an extremely engaging and challenging release. Sadly, getting to the good part means plowing through a lot of glitchy, annoying content... but believe me, stick with it, it's well worth it. Fans of the original Carrier Command will love what the developers have done to upgrade this.
Sadly, I get the feeling that this will mostly get negative reviews from the gaming press (from lazy journalists who will have based their review on simply playing the Campaign Mode), and so a lot of gamers will be put of from playing this challenging offering.
8
Nick Smithson