Euro Truck Simulator 2

Format: PC
Excalibur Publishing
RRP: £24.99
5 0600204 75405
Age Restrictions: 3+
Available 26 October 2012
Prove your skills in manoeuvring these impressive vehicles and take on a selection of delivery contracts across an incredible amount of European cities. Take to the wheel in over 60 cities set across Europe as you get the chance to travel thousands of miles of real and well-known road networks. Take in hundreds of world famous landmarks and structures that can be seen when touring Europe. You can even customise your rig in a variety of different ways ranging from performance to purely cosmetic...
This game wasn't what I expected... but in a good way. Euro Truck 2 is far more than just a driving simulator, it's a really engaging rubber to the tarmac ride.
The graphics are immersive, very little seems pre-rendered. Tiny details spring to life and you really feel as if you're behind the wheel. The sound is a little lacking - a few more engine tones would have been nice but what you get is enough to compliment the visuals.
The interface is easy to use and although there's no tutorial mode it's really straightforward to pick up. You quickly get into the action and before you know it you're off and driving loads around Europe.
The gameplay sees you as a driver for hire at first but you can build a business and become your own boss. Top tip: get a bank loan as quickly as you can. Once you've got your own truck the game opens out and you can travel where you like. You get to pick the loads you want.
Real locations in the game, such as the M25, resemble their real-life counterparts, which is nice, and 'in game' time is okay but a little too generous if you like to push your truck along at a reasonable speed. A bit more time pressure would be nice to add some tension though saying that there are options to specialise in last minute deliveries.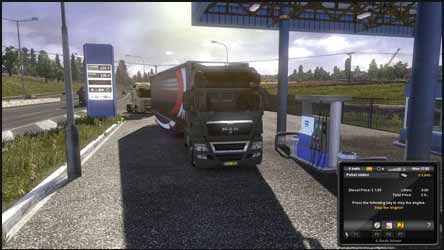 So is this game for you? It depends. It's not a fast-paced rollercoaster although you can roll your truck if you see fit or are careless, but if you like detailed, realistic and immersive simulators then you might just find yourself at home with this release.
Personally, I found this trucking game to be 'loads' of fun...
8
Sophie Wyllie