Painkiller
Hell & Damnation

Format: PC
Nordic Games
RRP: £17.99
Click here to buy via Steam
Age Restrictions: 18+
Available 31 October 2012
Heaven's Hitman is Back... With a vengeance evil has returned. Demonic powers are manifesting themselves as a myriad of dark creatures, fighting over the fates of imprisoned souls caught in Purgatory. Once again, it is up to Daniel Garner, in the unenviable position of being the Curse of Darkness and the Toy of Light, to fight his way...
Given its premise, the release of the first person shooter (FPS), Painkiller: Hell & Damnation on the PC seems eminently appropriate at Halloween. Publisher Nordic Games and developer Farm 51 have taken a popular 2004 title and updated it with the Unreal Engine 3, adding multiplayer options and much more.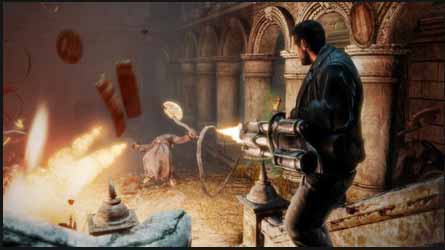 Given the evolution of the first person shooter over the last decade, Nordic have decided to take the risky route of stripping away all the frippery associated with the modern game and go straight for a balls out run and shoot experience, in a world of Call of Duty, with its insistence on reality its speed, simplicity and fantasy environments may well be its greatest strength.
Like the original, you get to play Daniel Garner, the Curse of Darkness and the Toy of Light, whose unenviable job it is to wade through purgatory's hordes of death and demons on his way to vanquish the ultimate evil. Should he succeed in his quest he may yet be reunited with his wife, Catherine.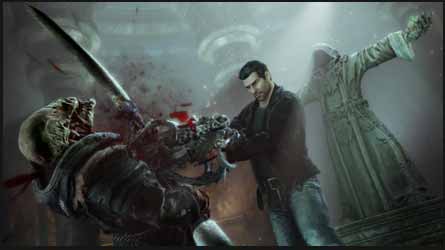 To aid him in his quest Daniel has a variety of weapons at his disposal, including the Soulcatcher. The new weapon added to the game has nifty blades which not only kill the demons, but also collect their souls for you. Get enough souls and you can use the weapon to control in-game enemies to fight for you, useful in a heavy fire fight. He still has his stake gun, shotgun and electrodriver, my favourite is the spinning blades which eviscerate your enemies.
Although the game has a story mode, its real strength lays in the multi-player options, all of which will be familiar to anyone who played one of the older FPS's.
Cut scenes are provided, but the real challenge is to enter a new environment and clear it of souls which are intent on killing you. This provides a satisfyingly frenetic experience, just right for coming home from a long day and venting your frustration by killing waves of the undead. The game also supplies thirty differing characters for you to practice your killing skills on.
There is little change in the format with fourteen differing levels to fight through, including a number of boss fights, although here the bosses tend to be huge and just throwing yourself at them is likely to end your game. The game play does not just consist of violent carnage, although there is a lot of this, enough for the game to run into problems in Germany for being 'too evil' which must have delighted the PR companies and guaranteed an increase in sale. No, there is also a lot of skill required in the game. Running around killing the undead might be fun but without a modicum of thought it's likely to be a short gaming experience.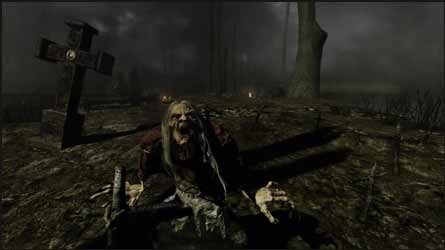 So, as well as the one player story mode, the game also has options for two player co-op, a Survival mode, Deathmatch and a team Deathmatch as well as Capture the Flag, enough real player interaction to give the most discerning FPS fan hours, if not weeks of fun. The game is intuitive and during the two person co-op will adjust the level of difficulty depending on the player's skill.
Visually the update has allowed for more detailed enemies and environments all played to a background of pulse pounding heavy metal music. This level of detail has been extended to the detailed wounding and body explosions.
A return to old school FPS is welcome; the overall game gives enough of a story to keep you motivated, whilst providing a challenging game, with extensive multi-playing mode options. It's a real return to the roots of FPS.
8
Charles Packer