Monster High
Skultimate Roller Maze

Format: Nintendo DS
Little Orbit
RRP: £34.99
8 154030 100383
Age Restrictions: 7+
Available 16 November 2012
Franchises are a wonderful thing for purveyors of modern ephemera. Dolls have always been a good place to start as it gives you a number of characters which can then appear in differing types of media. One of the modern franchises is Monster High which is a collection of dolls who are the children of more famous monsters. With their signature large heads the girls repeat a version of monster high school. Now there is nothing wrong with dolls and these are designed to appeal to young female, no that an older person is immune to such product promotion, especially if it involves fantasy or science fiction, but as I tell my wife, mine are scaled representations and not dolls.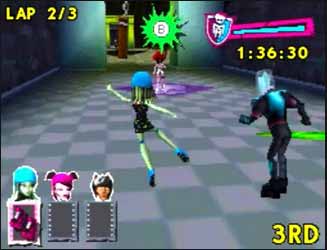 Monster High: Skultimate Roller Maze is a game for the Nintendo DS and follows the girls as they compete in various races. The visuals are appropriately cartoony and the representations of the girls good, there is a fair amount of detail in the tracks, given the limitations of the DS.
Like the dolls, the game is designed for a younger audience, hardened gamers will find little here to challenge their abilities, but then if I were seven I would want a game which looks good, has a level of difficulty which is only mildly challenging, and has fun at the heart of the game rather than challenge. The controls are simple and easy to pick up, meaning you can pretty much ignore any control complications and just get on and enjoy the game.
So the girls and guys, there are twelve characters in all, some of which have to be unlocked, are racing on roller-skates and to make matters more interesting they each have a different balance of abilities, so picking your team is not just about picking your favourite characters. With you team assembled you race against other schools, through both familiar and new environments. The tracks contain both obstacles and power ups to help and hinder you progress in equal measures.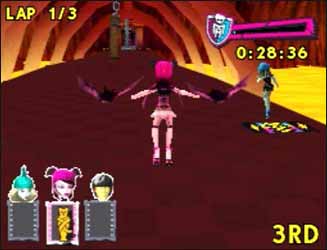 There are three levels of difficulty, Spooky, Creeparific and Scarifying, which only changes the number of tracks you have to complete, the collective point you get from you finishing place in each race decides your overall finishing placement, come first and you will unlock new racers and tracks.
You can choose four different modes to race in, Race is explained above, but you can also choose Quick Race, which has only a single track, rather than the four to six in normal race mode. Relay has you completing the track as a number of differing characters and lastly Timed is exactly as it sounds.
For an adult the game is not a challenge, but for a younger gamer it has a nice balance of game play and difficulty, which should appeal to the less experienced gamer. As an adult I found the experience oddly relaxing, not to have a bunch of complicated key combinations to remember.

6
Charles Packer