Monster High: Skultimate Roller Maze

Format: Wii
Little Orbit
RRP: £29.99
8 154030 100390
Age Restrictions: 7+
Available 16 November 2012
It's time to lace up your skates and get ready for Monster High: Skultimate Roller Maze! Pick your favourite Monster High character and assemble a team of friends and fiends as you skate your way through the catacombs of Monster High. Collect power-ups, avoid monstrous obstacles, scream past the competition and use each character's special ability and ghoul power to win the race and bring home the victory! The importance of teamwork and good sportsmanship are the final nail in the coffin as you "Be Yourself. Be Unique. Be a Monster!"...
Monster High: Skultimate Roller Maze is the latest game based on the characters in Mattel's line of fashion dolls. It's a race game with a twist. Choose from your favourite characters (you start with a limited choice but unlock more as you progress).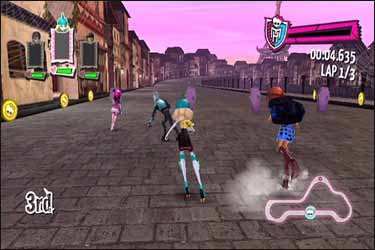 The game modes include Race (where you progress through a series of races, earning points for each race based on your placement); Relay (each ghoul will race individually, tagging in the next teammate at the end of each lap); Quick Race (play a single race on the track of your choice); and Timed (No opponents, no distractions. It's just your team versus the clock).
When you start you are given the option of choosing your team. Depending on the game mode you must pick up to three characters. All have different abilities which can be unlocked when you pick up enough of the coins which are scattered around the tracks. These allow you to have a short speed boost.
In addition every so often four coffins will appear and if you ride into one you will be given a trap to set or a speed boost. But beware there are upside down coffins, that your opponents may drop, which will trap you momentarily.
In Race mode you have to switch between your teammates as each becomes tired, whereas in the Relay mode you must complete a full lap before the next character takes over.
It's a fairly simple game to master and the fun comes from competing with other teams as well as the interesting interactive tracks (which hide traps everywhere).
For young girls who are Monster High fans, this game will provide hours of entertainment.
7
Nick Smithson