Table Top Racing

Format: iOS (iPad, iPhone, iPod Touch)
Playrise Digital
RRP: £1.99
Age Restrictions: 9+
Available 31 January 2013
Table Top Racing pits all manner of crazy cars and automobiles against each other in a world of table top race tracks and oversized obstacles. With an awesome arsenal of madcap weapons and devious power-ups to play with, cars and tracks are brought to life with 'Triple-A' production values lavished on every pixel. The irresistible multi-player mode enables up to four 'frienemies' to engage in addictive, high octane battles over the net and also compete for the top spot on global leader boards...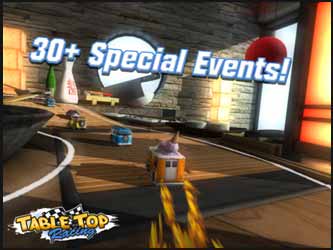 Playing Table Top Racing is a confusing experience. Initial excitement is generated by the knowledge that the game is created by an indie team that created the innovative Wipeout, but this fades somewhat when you realise that the game owes an awful lot to the 1991, Codemasters Micro Machines game. The original was popular and a lot of fun to play, so for a new games studio there are good commercial reasons to go for something tried and true. The game is an exclusive to the iOS platform.
The game involves you racing a miniscule car/truck around tracks based on the idea of a table; this means that rather than large crowds and impressive vistas, your biggest problem is avoiding paint cans and food items.
The menu structure is nothing new, seen before in many pick up and play games. The object of the race is to pass the finish line in the first three places. Not only does this allow you to unlock the next track, but the coins that you win allow you to upgrade your vehicle or even buy a better one to adapt. You get a choice of two control schemes, allowing you to play using the tilt control only or onscreen directional arrows, both work well so which one you go with is really a matter of choice.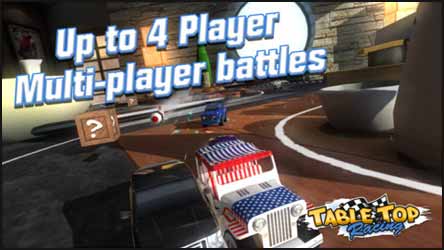 There are a number of racing options, including practice tracks with environments as diverse as a BBQ, a toy themed track and fun with some beach buggies. The championships are where you will make most of your gaming progress, but for some more coins and races, with a twist, you can try your hand at the Special Events. Most of the races are not unlike Mario Kart with the use of various power up and weapons which can be picked up from crates on the track.
The music follows Wipeout's tradition of providing a combination of loud rock and quirky lift music, nothing that isn't going to annoy you after a few hours, it's a shame they were not able to incorporate the option to play your own music, Wipeout with a Foo Fighters music track was a sublime experience.
All thing considered, I enjoyed the first iteration of the game so why not update it, it's not original, the music sucks but it is a great deal of visually impressive fun.
6
Charles Packer