Terraria

Format: Xbox 360
505 Games
RRP: £9.80 (1200 Microsoft Points)
Age Restrictions: 3+
Available 27 March 2013
Welcome to the world of Terraria! Dig, fight, explore, build... Nothing is impossible in the special edition version of this action-packed sandbox adventure. Over a dozen environments and hundreds of items to craft and enemies to defeat. The world is your canvas - make it your own...
Terraria was originally released for PC in 2011. It takes its inspiration from games like Metroid and Minecraft. You'd think the retro look and 2D presentation would be a little limiting, but in fact it's this old school presentation that gives Terraria it's charm. It's an RPG/action-adventure game that sees you start with copper axe, a copper pickaxe, and a copper shortsword. These items are used to chop down trees for wood, dig natural resources and fight of enemies. You can craft better tools and weapons as you progress through the game.
You can also build other items by crafting various things you can collect from your environment. For example, take a log from chopping down a tree and craft this with the goo that you collect when killing a strange jelly like monster and you have torches which can be used to light your way in the dark.
Constructing buildings (which you'll need to do in order to stay alive) is also a fairly straightforward affair - although you can make them as simple or complex as you like. But to complete each dwelling it needs to have walls, a door, wall panelling, a chair and a torch, to provide light.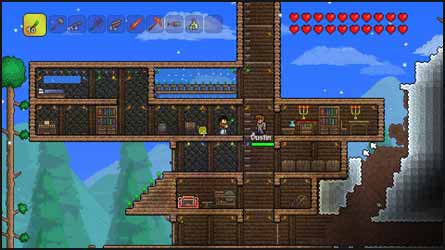 The mechanics are fairly simple to get to grips with. There's even a quick tutorial that will help you master the basics. Once you get into the game proper you have the opportunity to customise your character and chose between Normal (when you die you only drop coins); Difficult (you drop all items if you bite the bullet); and Hardcore (if you're killed then your character is permanently deleted).
When you start the game there's no time to mess about, you'll need to set about collecting all the right material to build yourself a dwelling. If you fail to do so by nightfall you're as good as dead - for this is when the real nasty creatures of Terraria come out to feed. If you've built yourself a house, then you can sit the troubles out until morning, when you can carry on crafting items and building better accommodation.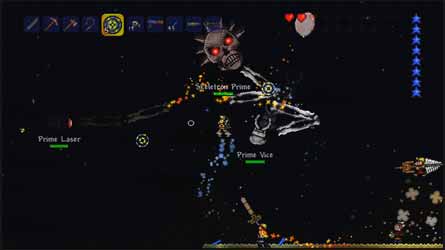 It was this first day/night cycle that caused me a few headaches. I was too busy faffing around exploring the world that I didn't start building a house until it was starting to get dark. When the beasties came I had almost finished, but not before I was killed a few times. When you die a gravestone is left where you fell. This is all well and good, but one of them appeared near my house door and so opening and closing it became a bit of a chore.
It's a fun, addictive game that offers hours of entertainment, but it's certainly a game that you'll get the most out of by playing with your friends.
8
Nick Smithson