Magic 2014
Duels of the Planeswalkers

Format: Xbox 360
Publisher: Wizards of the Coast
Developer: Stainless Games
RRP: £6.85 (800 Microsoft Points)
Age Restrictions: 7+
Release Date: 26 June 2013
Magic 2014, challenges players to "Ignite Your Spark" and help Planeswalker Chandra Nalaar in a quest for revenge as they track down a manipulative and dangerous Planeswalker foe. An engaging storyline and strong integration with the Magic 2014 - core set ties the experience together for players, culminating in an end-of-summer Magic Celebration on 07 September 2013 that brings all Magic fans together in stores across the world. Magic 2014 builds on the success of previous games in the franchise and adds all new features including 10 brand new decks, 15 new encounters, 10 new puzzle challenges, and an all-new Sealed Play mode, allowing players to open booster packs and build decks to play against the AI and other players...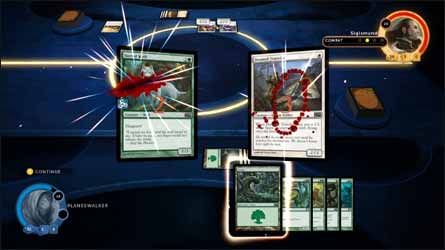 The latest Magic release from Wizards of the Coast is designed to appeal to those that must own everything with the Magic branding on it as well as those that have never even picked up a deck of Magic cards in their life. For those that are new to the universe (you're in for a treat) there is a simple tutorial that shows you how the game works and walks you through it right up until your first all out battle. The level of difficulty is just hard enough that you won't coast through it without being defeated a few times, but it's in your defeat where you learn the most.
To explain the rules here is a little pointless - as it would take ages and you'd still need to get your hands on a deck of cards to fully understand everything. To see if the game is for you, it might be an idea to download the free trail version via Xbox Arcade. It's a collectable card game where players battle each other with their own unique deck of cards. Because there are so many possible combinations it means that no two games should ever be the same - it's as much a game of luck as it is skill.
You can play the Campaign mode, which has an interesting story to follow, or play online. You can even create your own decks once you start to unlock some of the other cards. In the Sealed Play mode you get a random booster pack. Once you've unlocked all of the booster packs you can start to use the cards to create your own decks.
In addition, Magic 2014 players get the first look at cards from the Magic 2014 - core set, including the highly anticipated Slivers cards, creating even more seamless integration between the online and offline games.
Whether you're a hardcore Magic player, or a total novice to the game, Magic 2014 has everything in one neat package to ensure that you are hooked and stay hooked for some time to come.
9
Nick Smithson