The Serious Sam Collection

Format: Xbox 360
Publisher: Mastertronic
Developers: Croteam / Devolver Digital
RRP: £24.99
Age Restrictions: 18+
Release Date: 12 July 2013
A benchmark first person shooter, Serious Sam follows the adventures of Sam "Serious" Stone and his fight against the forces of the notorious extra-terrestrial overlord Mental who seeks to destroy humanity. The Serious Sam Collection allows lifetime Serious Sam fans and newcomers alike a chance to blast through some of the most iconic shooters of all time. Fight off relentless onslaughts of outlandish enemies and revel in the gloriously over-the-top action that has become the trademark of the Serious Sam series...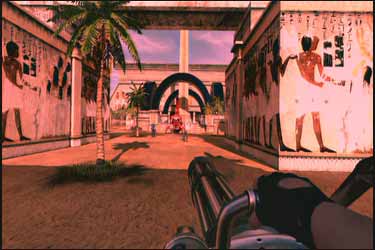 The Serious Sam Collection includes the following four games from the franchise: Serious Sam HD: The First Encounter (A fully re-mastered version of the landmark first-person shooter from Croteam); Serious Sam HD: The Second Encounter (The legendary follow-up hit in high-definition); Serious Sam 3: BFE + Serious Sam 3: Jewel of the Nile DLC (Serious Sam returns in a more up to date take on the franchise); and Serious Sam Double D XXL (A side-scrolling shoot-fest that reimagines Serious Sam as a classic 2D shooter featuring the crazy Gunstacker weapon).
The first two games collected here are so similar that they could very nearly be the same game. Both are rather dated looking FPS, and even though they have been rereleased in HD they still retain their blocky graphics look.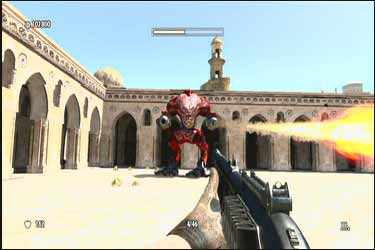 The third game is probably about the most fun. It's still a little dated looking - which is a little surprising when you considered it was only released in 2011 on the PC and 2012 on Xbox 360. This time there's a sort of coherent story linking everything together. You start the game with no weapon and slowly collect them as you progress through the levels. In fact, your first monster attack sees you having to fight it with your bare hands - something that's rather satisfying. In fact, it's fun throughout the game to attack each of the lower ranked monsters this way to see what ingenious way Sam will rip them apart.
However, like all the games in this series, there's no map or indication of where you're supposed to go, so you can spend ages wandering around your environment until you stumble across your goal. One slight bug in the game saw me defeat an alien controlled helicopter. It crashed to the ground and I had no idea what to do next. After wandering around for ten minutes I headed back to where I had been when I destroyed the helicopter and the game then decided to let me progress to the next area.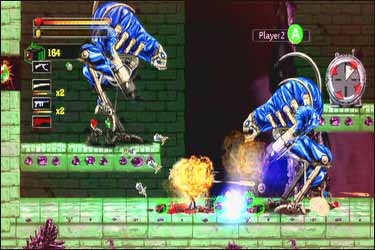 The final game is an Xbox Arcade offering - a 2D sideways scrolling platform game which features all the enemies you know and love so well. I really couldn't get into this. It was more than a little dull and repetitive. The introduction of new enemies every so often wasn't enough to spice up this rather dull offering.
While an enjoyable trip down memory lane for those who remember the original releases, there's very little here to attract gamers who have not played these games before.
6
Nick Smithson