Temple Run: Oz

Format: iOS (iPad, iPhone, iPod Touch)
Publisher: Walt Disney
Developer: Imangi Studios
RRP: £0.69
Age Restrictions: 9+
Release Date: 25 July 2013
It may be a little late in the day to release a game tie-in to the last Oz film, but the game makers have come up with a nice little endless runner game.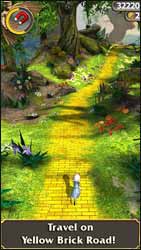 Temple Run: Oz is from developer Imangi Studios. For those of you who haven't played one of the companies Temple Run games, it sees your character running through Oz, jumping chasms, sliding under obstacles and trying to turn corners without getting squashed, you even get to fly the balloon. It's not a new genre, but the developers have created a game which is fast paced and gorgeous to look at.
As you belt along the yellow brick road you can collect gold coins which can be spent in the store to provide you with various power-ups. If you're good this is all you should need, but of course the game also has a store where you can dramatically improve your chances, by parting with money. Nothing wrong with that as it keeps the initial price of the game low.
Of course, this all comes fairly hot on the heels of Temple Run 2, which will bite into the number of people willing to download a similar game, just because it has a different theme.
Taken by itself it is still a good, solid game, which should provide hours of pleasure.
6
Charles Packer