Worms
Clan Wars

Format: PC
Publisher: Team17 Digital
Developer: Team17 Digital
RRP: £18.99
Click here to buy
Age Restrictions: 12+
Release Date: 15 August 2013
What's a Worm gonna do when threatened? Well in Worms: Clan Wars the answer is to get together with your worm mates to turn whatever you can find into artillery to wipe out the opposition.
Worms: Clan Wars is another in the Worms series of strategy games, developed by Team17 and the first to be available via Steam. It is a PC exclusive and represents the eighteenth game in the franchise, which stretches back to the original game first published in 1995. The new iteration has made some serious improvements in the area of online game play, allowing you to create clans and chat via WormNET. The developers have also improved the physics, including more contraptions, and a lot of time has been spent updating the look of the game.
The focus of the game continues to be cooperative fun and is highly customisable; you can create your own content including items and designer landscapes, which are sharable; there are more than two hundred items to customise, including emblems and flags and a few more new ones, just for this game.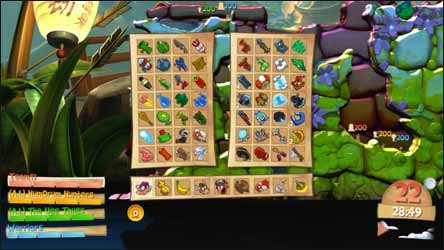 You play the game across five new landscapes and a day and night cycle. Your worms come with different classes which each have their own attributes for you to use, so it's not just about blowing up stuff, you have to strategize in order to win.
Although the game is best played with friends, there is a very decent single player game available with twenty five missions across the five environments: Prehistoric, Viking, Inca, Feudal Japan and Industrial Revolution. You play Tara who sets the mission objectives for the team, there is also access to ten Worm Ops missions which are time limited.
It's colourfully cartoony and a lot of fun to play. The improvements have made a definite contribution to the game's playability. Ultimately, this is a really stupid game and I mean that as a compliment. All the elements come together to create a game that just screams fun, fun, fun.
8
Charles Packer