Runbot

Format: iOS (iPad, iPhone, iPod Touch)
Publisher: Marvelous Entertainment
Developer: Bravo Games
RRP: Free
Age Restrictions: TBC
Release Date: 21 August 2013
With the philosophy of give the game way for free, but charge for important upgrades, RunBot hits the iTunes store. Developed by Bravo Game Studios and published by Marvelous Entertainment the game is an endless runner.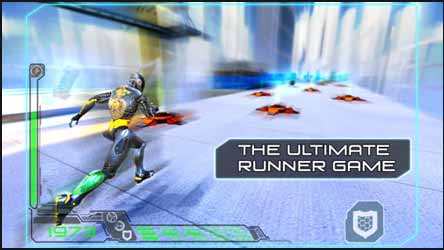 At its base you play an escaping weaponised robot, which has rejected his role as a killing machine. You must parkour run at speed through an obstacle course, weaving, ducking and jumping over the barriers which you encounter. Along the way you get to gather batteries, which are used as in-game currency. They also create your high score for a particular run. To keep things interesting the runs are not in straight lines as you weave around the edges of buildings and eventually jump off, either free falling or jet packing to the next area.
Now your previous owners are not happy about you running off and as you progress through the levels the threats increase to include lethal threats and this is where your batteries come in handy, as they increase the threat level, you get to increase your defensive and offensive capabilities. You can also spend your batteries on ancillary optionals with systems and hack upgrades.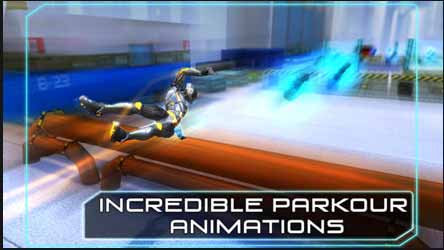 Visually the game presents an impressive 3D futuristic environment in which to run, it's colourful with changing tracks, so the game should never feel repetitive. Whilst it is possible to buy many upgrades, for those of you that let your kids play with your smart phone, you can disable in-game purchase.
To encourage you to play, the game has special days where you get double up on your batteries etc; if you play on that particular day. It's a nice touch, on the other hand it also offers you the option to log in with your Facebook account where it can monitor you and your friends gaming activity. At first this seems like a dubious request, even though it has come from a proven and respected company, but part of the game's appeal is that you can play against your friends high scores to become the top runner.
It's a fun little game with lots of replay value.
8
Charles Packer