beHEXed

Format: iOS (iPad, iPhone, iPod Touch)
Publisher: BBG Entertainment
Developer: BBG Entertainment
RRP: £1.49
Age Restrictions: 4+
Release Date: 04 September 2013
There are many puzzle games for Apple's range of machines; some of them are even good. The creators of Train Your Brain with Dr. Kawashima and Einstein Brain Trainer have brought out another puzzle game in the hopes of entertaining and confounding you in equal measures...
beHEXed is the epitome of a well-designed puzzle game, the idea is simple enough to pick up in seconds, but the solving of the puzzles will have you scratching your head for some time.
You are presented with an empty shape which you have to fill with poliamonds: shapes made up collections of five equilateral triangles. Further along you get to play with heximonds: collections of six triangles. You can place them anywhere within the empty shape and even rotate and flip the pieces.
The object is to fit these into the blanks and complete the shape. See, I told you it was simple! That said, it took me ages to even complete the first of sixty puzzles. The puzzles get more difficult as you solve them and the pieces to be placed increase from four to twelve. If you're really good at solving the puzzles there is a speed mode.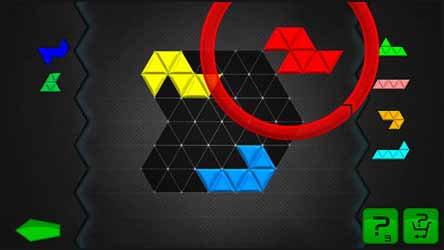 From the initial menu you can choose to play straight away, but I would recommend that you try out the tutorial first. You can change the volume of the music and sounds and create up to four distinct profiles, so that you and three others can play without ruining each other progress. If anyone stops playing you can reset profiles. You can change the games theme, though there is little point to this as there are only two themes to choose from.
The game has a speed mode and you can check your achievements and where you are on the leader board. If you get stuck you can purchase hints - 10, 25, 50 or 100 - and if you solve them all you can buy another pack of sixty puzzles. You can also earn tips by solving puzzles.
Simple in conception and challenging in its execution, beHEXed will please puzzle aficionados everywhere.
8
Charles Packer