Heroes of Camelot

Format: iOS (iPad, iPhone, iPod Touch)
Publisher: Kabam
Developer: Kabam
RRP: Free
Age Restrictions: 12+
Release Date: 18 September 2013
Camelot has come under attack and has been lost to the Black Knight and his army of the undead. It is up to you and your online companions to save the city and the day, as Merlin and Arthur look for a new hero, a hero that could be you...
New from Kabam, Heroes of Camelot is an online RPG multiplayer card based exploration and combat game for the iPhone and iPad. The game is a continuation of their highly successful Kingdoms of Camelot franchise.
Your job is to travel the land gathering together a band of heroes, represented by cards and, through combat and upgrading cards, get to a position where you can challenge the Black Knight for supremacy of the land. In order to aid you; you can create up to three teams.
You get to quest across five British cities, gathering cards which give you upgrades and specific battle combinations. Along with the regular cards there is the chance to discover some rare and powerful ones. If you think that you have reached a sufficient level of power you have the option to go head to head with other players in the Arena.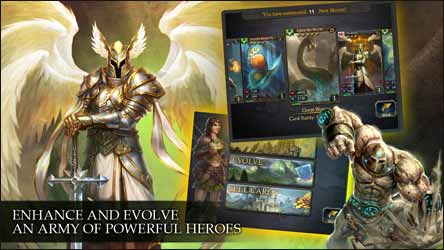 Graphically the game is impressive; the main screen contains a lot of information. Across the top you have your level, across the bottom you can read online comments from other players as well as write and respond to them, this also gives you access to the forums which contain help and tips about the game. Down the right hand side you have the option to Summon, Quest, Party, Upgrade Arena Shop and of course access to the game's settings.
Now you can't really argue with the success of the game, even though I didn't feel that it was a game I would personally play. The first reason is because I've never been a great fan of card based games, unless its poker and the general feeling that these games are best played between a group of friends, rather than on a phone, even though there is an on-line options.
That said, even a cursory look at the online comments give the impression that those who have bought it are enjoying the experience, so what do I know. So, it's not a game for me, but certainly enjoyable for those who like such things.
7
Charles Packer