Batman: Arkham Origins

Format: Xbox 360
Publisher: WB Games
Developer: WB Games
RRP: £49.99
5 051892 160261
Age Restrictions: 16+
Release Date: 25 October 2013
Developed by WB Games Montreal, Batman: Arkham Origins features an expanded Gotham City and introduces an original prequel storyline set several years before the events of Batman: Arkham Asylum and Batman: Arkham City, the first two critically acclaimed games of the franchise. Taking place before the rise of Gotham City's most dangerous criminals, the game showcases a young and unrefined Batman as he faces a defining moment in his early career as a crime fighter that sets his path to becoming the Dark Knight. As the story unfolds, players will meet many important characters for the first time and forge key relationships...
The third game in the Warner Bros., Batman: Arkham franchise is a bit of a disappointment. While it's an enjoyable and beautiful looking game, it's not really a patch on 2011's Batman: Arkham City. In fact Arkham Origins, which takes us back to the origins of Batman's reign in Gotham City, feels like a major step backwards in game play.
The only major plus point is the well constructed storyline... but even that feels like you're being guided from cut scene to cut scene. There have been a few minor tweaks to the combat mechanics (but none that are that noticeable. It's still a case of button mashing to beat up your enemies while looking out from their attacks in order to counter in time). But I found flying around the city (via the use of the grappling hook) to be a lot harder than in the previous game. There seems to be a lot less areas to grapple onto and so you'll spend a lot of time gliding around heading towards the nearest building and then moving the camera in order to look for a grappling spot.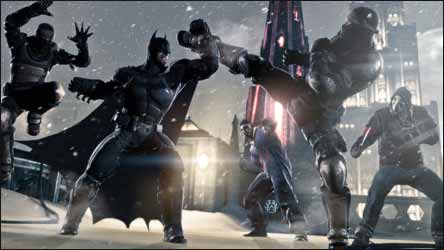 And, while we're on the subject of cameras... this brings me onto possibly my biggest complaint - that this game suffers from some annoying camera issues when you're in the midst of fighting or simply running / flying around the city. It's nothing major, but it will frustrate you at some time or other.
Also, unlike the previous game, there's no Riddler traps to uncover - which makes going back to the game when you've completed the main story mode a little pointless. Part of the fun of the previous game was playing through the campaign as Batman and then solving all of the Riddler's puzzles... and then playing as Catwoman and solving her own riddles.
Challenge Mode allows you to access the Bat Computer to engage in numerous training missions. This also allows you to sharpen your skills for the main game. But is it me? Or does constantly beating up groups of enemies get dull really quickly? At least in the previous game you had the chance to play as Cat Woman and watch her amusing attacks. I have to admit that I didn't really notice anything that interesting about Batman's finishing moves.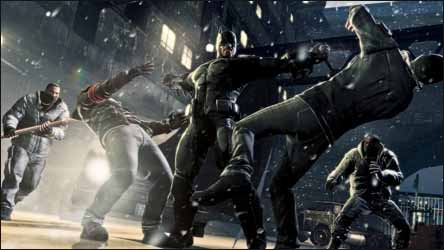 Online mode is also interesting and allows you to randomly join one of three teams: Play as Batman or Robin; one of The Joker's goons; or Bane's gang as you battle against your opponents. There's quite a lot of enjoyment to be had in this mode as depending on which team you are on will give you various benefits. Team work (especially if you're playing as Batman or Robin) is essential.
From a stylistic point of view, and this is just a personal thing, I loved the fact the game was set at Christmas. No doubt this game will find it's way into many a good boy and girl's stocking and Gotham City has never looked so glorious with its giant Christmas decorations and festive music piping out of speakers across the city. There's actually a lot of fun to be had simply wondering around and looking at the attention to detail the developers have had making the environment look and feel festive.
While it's still an enjoyable game it's only really the online play that steps it up a notch from the last instalment.
7
Darren Rea