Adventure Time
Explore the Dungeon Because I Don't Know!

Format: PS3
Publisher: D3 Publisher / Namco Bandai Games
Developer: WayForward Technologies
RRP: £39.99
Age Restrictions: 7+
Release Date: 15 November 2013
As is often the case, there are shenanigans afoot, so much so that the princess has asked Finn to descend into the castle dungeon to find out what is going on…
Adventure Time: Explore the Dungeon Because I Don't Know! is based on a children's animated show on the Cartoon Network. Not having seen the show I had no preconceptions about the plot or characters, so it was a shame I felt the need to turn off the game after the first five minutes.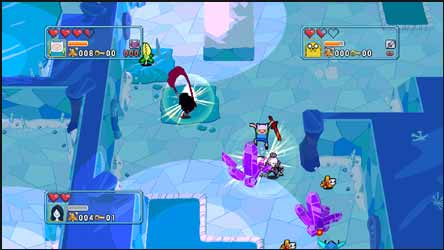 If you troll through the children's output, there is an increasing level of sophistication which the game fails to achieve. Aesthetically the game looks like an old eight bit game that has been rereleased, rather than a modern example. Now, you may get a bunch of old dads who want to relive their collective youth by playing Manic Miner, but I'm unconvinced that contemporary children will be over impressed with the simplistic graphics. The action is presented from an almost top down perspective and as you progress through the levels it becomes increasingly obvious that, apart from some rearrangement, they all look similar.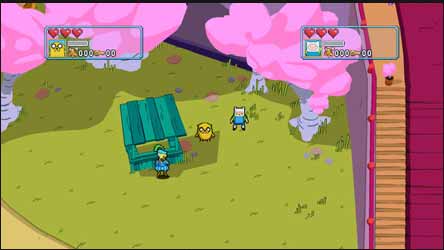 At its heart the game consists of you traversing the one hundred levels, picking up treasure and, if you can be bothered, fighting. I say this as the opposition is ridiculously easy to walk around. The game is structured around the levels. So, every five levels you can warp back to the beginning to spend your ill-gotten gains on upgrades; every tenth you will meet a boss fight. Thankfully as you progress down the levels things do get harder, but nothing which is likely to break a sweat. Along the way there are discarded weapons to pick up, but the problem with the hit detection means that combat is as much about luck as it is about skill.
Fans of the show will be pleased to learn that you can play as Finn, Stanley, Jake and Marceline, with up to four players involved at any one time, but even the addition of differing character strengths and weaknesses cannot disguise the fact that this is a rather dull dungeon trolling game. It is one for the fans only and young ones at that.
5
Charles Packer