Putty Squad

Format: Nintendo 3DS
Publisher: System 3
Developer: System 3
RRP: £17.99
Age Restrictions: E
Release Date: 17 April 2014
Putty is a small blue blob of a being, who spends his time travelling through numerous platforming screens, supposedly on a quest to save his friends, he does this by sitting and absorbing them, although this point is almost subsumed beneath the silly fun that is the game.
In truth, this was a retro classic, so it's always a dodgy thing to update an older game. Thankfully for the developers the original release, although successful, wasn't so successful that it joined the societal collective consciousness, there is a whole generation of gamers who will not have heard of Putty.
Putty Squad, from developers, System 3, sees our blue blobby hero being brought right up to date with a 3D version appearing on the 3DS.
Putty has his own collection of special moves, which keeps interest in the game and also allows for some clever, multidirectional level design. The game comes with a tutorial which will gently lead you through all the controls.
Using either of the left hand directional controls, moves Putty alone a horizontal line, only really good for running along the ground. The B button will get Putty to jump. To differentiate Putty from other platform games, our hero can also do a number of unique things.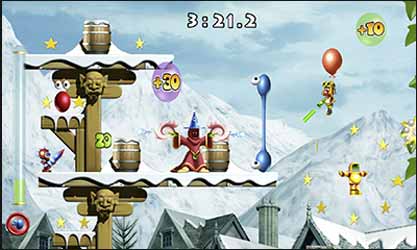 The X button allows Putty to inflate himself and like anything filled with hot air, this allows Putty to float up to reach hard to get at rewards and levels. However, this is not the only directional skill, pressing the Y button will make Putty stretch in whatever direction you're pushing the directional button, good for getting up to close platforms or diving down below your current level.
One of the most fun things you can do with Putty when you're not traversing the levels or floating is to punch things and drop nitro, which is just one of the things Putty can absorbed to use later. Putty comes with a punch in more ways than one, accompanied with some satisfying sound effects.
Of course there will be times when you can feel a bit overwhelmed, the game can get quite frantic at times. If this happens Putty can squash himself down to avoid the opposition and their missiles. As you go through the game there are some special items to look for, including stickers which you can paste into an electronic book.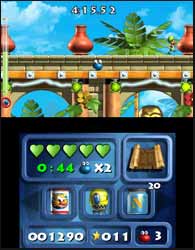 The game is nicely balanced for both the more adult platformer, who will just try to work their way through a level, against the clock and a younger player, for whom a map has been provided. Get to the end of a level and you get a high score, if you so desire you can return to each level, after you have unlocked them to replay them for a better score. On the 3DS the developer has promised new, free levels every two weeks, sweet.
However, there is one maggot in this otherwise perfect apple. Although the levels are brightly vibrant, it can sometimes be difficult to work out what is a background element, which cannot be interacted with and the foreground levels, leaving you occasionally trying to jump on a background element.
Overall, the problems with identifying elements aside, this is a fun little platformer, the graphics are jolly and for the most part the music is fine. It should while a few happy hours away.
6
Charles Packer