Table Top Racing
Premium Edition

Format: iOS (iPad, iPhone, iPod Touch)
Publisher: Playrise Digital
Developer: Playrise Digital
RRP: £1.99
Age Restrictions: 9+
Release Date: 01 July 2014
Table top racing has been popular ever since the original Micro Machines came out all those years ago, so it is little wonder that the basic game comes around every so many years.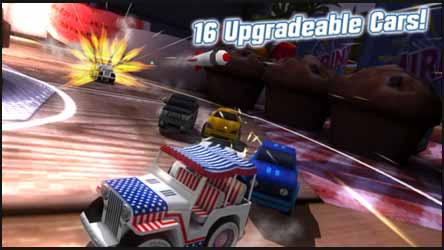 Table Top Racing: Premium Edition (iOS for iPhone and iPad) from British indie publisher and developer, Playrise Digital, provides four racing modes. You can embark on four full championships or engage in Drift Events. There are thirty special events available as well as the quick race. If you opt to have a quick race you're offered eight different tracks to hone your skills on.
The basic idea of the game is that you race around micro tracks in your van or car, trying to win the race. The first thing you notice is that you cannot control your speed, after you set off the only realistic way of going faster is by connecting with one of the crates which litter the track, which provide you with a boost. The crates also contain a number of offensive options by which you can cripple the opposition, including EMP pulses, bombs which act like mines and rockets to slow down anyone in front of you. Once picked up you must use your bonus ability before you can pick up another one.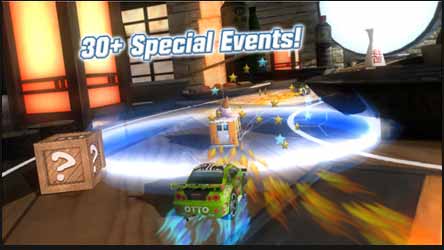 The garage is where you can improve you vehicle and this is where the in game economics comes in as the improvements can only be purchased with gold which you buy for real cash. It you're feeling flush you can upgrade your speed, grip acceleration, armour and increase your turbo. Here you can also change your basic vehicle as well as its colour. Coins can be earned by winning games, so if you don't mind a bit of grinding you can get most things for free.
Under the options there is the ability to play using either the left or right on-screen arrows or switching to utilising the option to tilt the screen to control you vehicles direction, you also have the option to turn the music and sfx sounds off or on.
As for the game, you can either play it as a single player or network the game, either local with another player near you or across the network against three other human players. I can't really say much about this as it seemed impossible to find other players for a network game, it's a new game so this might improve as more players join. For those of you who feel particularly competitive there is a leader board and trophies to be won. You can ever post your progress to Twitter.
So it's a good solid game, with no adverts and purchases which really are optional. The premium version has also reduced the cost of vehicles and upgrades making it a realistic option to upgrade without resorting to cash.
7
Charles Packer