DeadCore

Format: PC
Publisher: Bandai Namco Games Europe
Developer: 5 Bits Games
RRP: £7.99
Click here to buy
Age Restrictions: 7+
Release Date: 17 October 2014
There was a strange French game that I must have played about twenty years ago which was simple in execution but devilishly puzzling enough to keep me frustrated and amused for many hours. I had not seen anything which resembled this combination until I was sent Deadcore from 5-Bits Games.
On the surface the idea is simple. You find yourself in a mysterious land, well actually above it, on a tower which is constructed mostly of floating cubes. The environment is graphically sumptuous and this very much enhances the overall gaming experience. Your task is to climb the tower, survive and learn its secrets. For this you will need to be able to jump and glide across the dividing spaces, failure to do this will mean a quick drop off the platforms and an early death, sending you back the beginning of your current platform.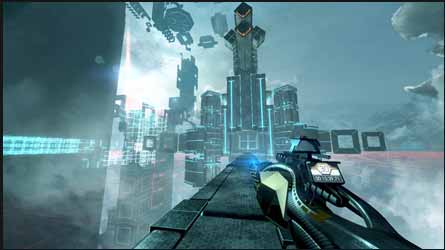 This smart platformer will require skill and patience to complete as you use a combination of jumping and gliding to make it from one platform to another.
Thankfully there is the ability to move your point of view around so that you don't accidentally just walk off a platform. The responsive flight will help you aim for the next one; however, you do all of this against a clock. Obviously, the replay value is going back to the various game sections to see if you beat your own time.
The level designs are intricate and some will take a great deal of patience and skill to master, especially if you want to keep the pace going. In the end the game is a simple idea, wonderfully presented and should bring many hours of frustrating pleasure.
8