Winx Club: Saving Alfea

Format: Nintendo 3DS
Publisher: Bandai Namco Games Europe
Developer: Little Orbit
RRP: £34.99
Age Restrictions: 12+
Release Date: 17 October 2014
Winx Club is an Italian animated show about a girl named Bloom, an earth girl who discovers that she has magic powers. Soon she is having adventures with her friends. The show has run for seven seasons and because I'm not a seven year old girl I haven't seen a single episode. However, the franchise has continued to expand and now a game for the 3DS is released for your delectation.
Winx Club: Saving Alfea, from Little Orbit, is not the first in the series of games having been preceded by several others, on various platforms. This incarnation is based upon the show's sixth season.
Ah! It's party time for Winx and a party requires ingredients. In the game you can play as all of the characters from the show, including Bloom, Stella, Flora, Aisha Tecna and Musa traversing this puzzle based game in both their fairy and human forms, the combination allowing you to access differing parts of the puzzles.
Each of the fairies use their skills across thirty-two levels to float about collecting items, some of which will unlock further levels and bonus content. The girls can also collect Dragon Flame Sparkles, which makes them more powerful. Search well enough and you can also find hidden collectables which gain you access to secret items.
Of course, not all the party preparations go to plan; the girls are up against the villainous creatures of the Legendarium, which the girls can destroy with their powerful attacks.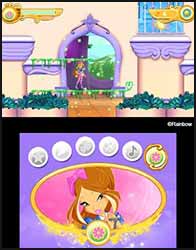 Now this is not particularly aimed at hardcore gamers, unless they are both young and of the female gender, so it's forgivable that the top screens 3D effects are not noticeably spectacular. The main aim of the game appear to be to present the characters, as close to their animated forms in a colourful and pleasing manner and in this it succeeds. The combat is low key and could barely be called violent, being slapstick.
Each character is presented on the top screen, moving left to right through the environment, when you reach a portion of the game where you are expected to interact a helpful circle appears informing you which button to press. This can do anything from operating lifts to breaking walls depending on the fairy and the situation.
The game is not without its problems. Firstly each of the levels is pretty short and the game's soundtrack is so insanely jolly that I can see most parents investing in a set of headphones. This is balanced by a very easy control system, which should not pose a difficulty for even the youngest player.
Ultimately, the game is well suited to the young audience it is trying to reach, colourful with an ease of access. The game should be suitable for both fans of the show and young players looking for a very forgiving game which does not require an overabundance of skill.
6
Charles Packer