Disney
Planes
Fire & Rescue

Format: Nintendo 3DS
Publisher: BANDAI NAMCO Games Europe
Developer: Little Orbit / Disney Interactive
RRP: £24.99
Age Restrictions: 7+
Release Date: 14 November 2014
Dusty joins a fire and rescue team led by Blade Ranger along with super scooper Dipper, an ex-military, heavy lifting helicopter, Windlifter. Together they defend the Piston Peak National Park...
Disney: Planes - Fire & Rescue, for the 3DS, from developers Little Orbit, is a tie-in game for the film Planes 2: Fire & Rescue (2014) and so relies on you having seen the film to really know who the characters are. If you have seen the film then you will recognise some of the game's locations.
The game allows you to have up to three profiles, so that three people can play without disturbing anyone else's game. The top screen is used for the 3D effects, which are presented in a number of ways. In the initial screen the 3D looks more like those postcards you can buy which shifts objects around as you move the card. Start the game and the main menu has a more effective 3D tour of the garage. In game graphics are fine, but not ground-breaking.
From the main menu you can choose to play missions, check your gaming stats, time played, missions completed, fires put out, distance flown and driven. There is a gallery but you have to earn gold badges in order to unlock the images. Under the options you can choose the volume levels of the music, sounds and vocals.
Once you get past the training mission you get access to a number of vehicles based on those from the film, four aircraft and one truck. Each of these has their own specialist roles and part of the game is matching the vehicle to the mission. Not all of the missions involve putting out fires and often you're off to rescue visitors. The 3D on the top screen is pretty good, but not good enough for you to really see the character faces. The game gets around this by opening a circular window which shows which character is speaking.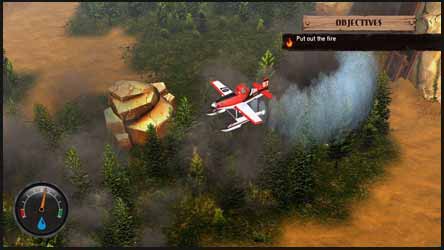 Moving around the screen is controlled by the left hand button. You're never in the dark about where to go as the game has a handy arrow which points to your next checkpoint. Your plane will automatically fly above any rising terrain and if you fly through the twister they give you a speed boost. Once you have scouted out a fire, you can fly to the nearest body of water, also usefully pointed to and press the B button to skim the water to fill your tanks before returning to, once again, press B to drop your water, putting out the fire. If you don't dampen the fire the first time around you can just go back to the river/lake and refill your tanks.
In a typical mission this might seem a little easy and if you get it right it will be. However, there are a number of variables you have to get right. Your tanks can only hold so much water, so if you're going to be careless how you drop this on the fire you might not put is all out before you run out of water; meaning another trip to water, meanwhile the fire will start to take hold again. If possible you should use the twisters to cut your time between the water and the fire, else you could be going back and forth for a very long time.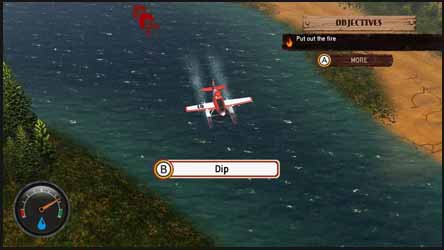 Mostly you will be using Dusty Cropper, but you also get access to Blade Ranger, who can also carry water, but also has a hoist, handy for rescuing stranded hikers, rotating the left thumb button raises and lowers the winch. Lil' Dipper is the yellow sea plane, Windlifter a large, green helicopter and each of these have their own specialist roles. The game contains twelve unique Fire & Rescue Story Missions as well as thirty Training Academy Missions. Progression also gives you access to more characters.
Overall, this is not a bad tie-in game and will give young players many hours of pleasure.
7
Charles Packer