Celtic Heroes

Format: iOS (iPad, iPhone, iPod Touch)
Publisher: One Thumb Mobile Ltd
Developer: One Thumb Mobile Ltd
RRP: Free (with in-App purchase)
Age Restrictions: 12+
Release Date: 08 December 2014
Embark on a truly epic 3D MMORPG journey across the vast and beautiful Highlands. Customise your character with unique features. Develop and master your skills to match your own play-style whilst you build new friendships, join Clans together and compete against rivals in real-time, to defeat thousands of legendary enemies including ruthless invaders, brutal trolls and ferocious fire breathing dragons. Chat and trade items in game with other Heroes and Clan mates as you progress on your travels to protect the mythical Dal Riata from threatening dark forces. Join thousands of players online in an epic journey through a massive 3D open-world MMO of Celtic Mythology...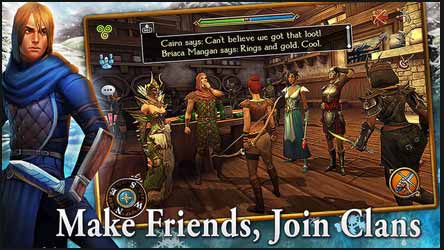 Not a new game, having been originally launched back in 2011, the powers that be have obviously decided to give it a bit of a revamp now (December 2014). So straight away you know that the community is still going strong so if you're looking for a 3D MMORPG that will stay the distance (which is important if you're going to invest your time and possibly money in rising through the ranks) then Celtic Heroes has already proven that it has the community and the ongoing support of its developer.
If you're new to MMORPG games, then this is easy to pick up and run with. Although I have to admit that on first appearance the various menus are not overly easy to navigate on the iPad. But it really only takes a quick glance over them to appreciate how simple they actually are.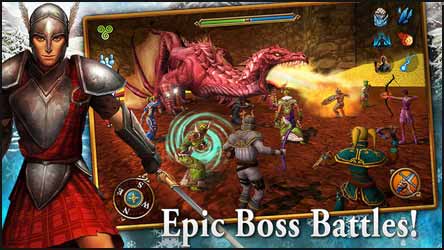 As with similar games on the market, you start your quest with nothing other than weak armour and weaponry and have to battle the various creatures inhabiting the world around you. The various creatures you encounter wander around, mostly ignoring you, so if you want to engage them in battle you have to make the first move. Occasionally the odd beastie will attack you first, but that's normally if you've accidentally bumped into them. This aspect of the game makes it a little more enjoyable (there's no random monster appearing and attacking you, or the need to dispatch the same enemies time and time again when you're trying to pass through an area quickly in order to get to another zone to complete a quest).
There are five classes to chose from (Warrior, Mage, Druid, Ranger or Rogue) and these will define how your character's skill sets can develop. At the main menu you have five slots so you can create one character for each class and rank them up individually. In the early stages of the game you can enter the castle courtyard and engage with computer controlled traders and trainers. These can be class specific, so will only train you or sell you items that are useful to your class. This is useful as it stops you spending time and money buying items or skills that you can't equip.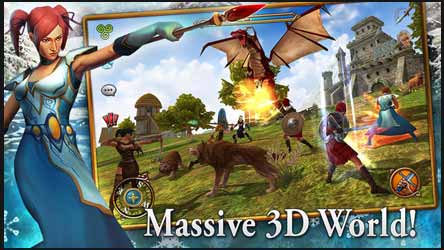 As you meet other gamers you have the option to attack them, or befriend them. Friends (and clans) are an important part of the game's structure. You'll need a good collection of friends if you want to trade or you need help on quests. In addition when someone asks you to be their friend, you can look at their stats and decide to accept or decline their invitation.
If I had one slight complaint it was with the instructions for some of the quests. Now, I'm incredibly lacking in memory and spatial awareness when playing these games, so when I have a quest to undertake I like to be shepherded through it a little. For example, fairly early on I was charged with collecting some moths to feed to someone's pet... I found and captured the moths... but could I remember where on earth to return to? Nope? And the Quest page wasn't much use, it just gave me the name of the person who wanted me to complete the task. The map is marked with quests, but there were quite a few and I couldn't really remember where I had to return to.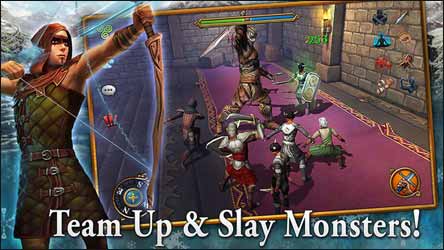 While the game is free, it does offer in-App purchase for those who want to have access to the game's currency a little quicker. There are various options, ranging from £0.69 for a handful of platinum, to £34.99 for a box of platinum. Personally, I find purchasing game currency a waste of money... and cheating a little, but the game's developers need to make money somehow in order to pay for the running costs and to try and recuperate the start-up costs.
If you're looking for an immersive game that you can lose yourself in, then Celtic Heroes is definitely worth downloading. The fact that it's free is all the reason you need to give it a try and see if it's for you.
9
Darren Rea