Tower of Guns

Format: Xbox One
Publisher: Grip Digital
Developer: Grip Games / Terrible Posture Games
RRP: £11.99
Click here to buy from Xbox Marketplace
Age Restrictions: 7+
Release Date: 10 April 2015
Tower of Guns is a fast-paced, bullet-hell, first person shooter with randomised levels and enemies, power ups, epic bosses and tons of unlockable items and weapons. You never know what to expect next. It is a pure FPS experience for players who just want to shoot stuff, battle gigantic bosses, collect loot, and upgrade their abilities and weapons to insane levels. So grab a rocket launcher, slap a shotgun modifier on it, pick up a hundred stackable double jumps and go conquer the Tower of Guns...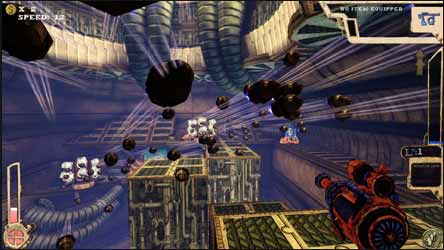 Tower of Guns is an independent FPS that has its roots solidly in the old skool camp to bring a nostalgic feel to those who grew up on on games like Doom and Quake. Sadly, though, for most a trip down memory lane is only satisfying if you're revisiting games you actually played - and even then the experience is usually mildly disappointing.
Tower of Guns is a little on the disappointing side as it requires little in the way of skill or intelligence, it's merely a shoot as much stuff as you can and avoid being hit by flying projectiles. You start with a low grade weapon, but can upgrade as you progress. However, I found this element a little tiresome as it seemed to take an age to get to the next weapon as I was constantly getting killed.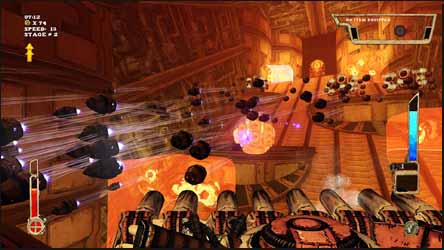 The game does have things going for it. For starters every play through is unique as the rooms you wander through are randomly selected each time you restart the game - mind you, that doesn't mean that you won't be revisiting a lot of the same rooms over and over again.
If it hadn't been for the fact I was reviewing this, I probably would have never played it again after the initial 30 minutes. Personally I found it too dull, repetitive, hard and the controls were a little fiddly.
Personally, I thought £12 was a little on the expensive side for a game that most will tire of fairly quickly. To be honest, even if it were released for free via Xbox Gold, I'd be in two minds whether or not to have it clogging up my hard drive.
3
Nick Smithson