Dragon Quest VI
Realms of Revelation

Format: iOS (iPad, iPhone, iPod Touch)
Publisher: SQUARE ENIX
Developer: SQUARE ENIX
RRP: £10.99
Age Restrictions: 9+
Release Date: 25 June 2015
Dragon Quest VI: Realms of Revelation is an epic adventure spanning two parallel worlds, where gamers must join forces with a diverse group of characters in order to save the world from darkness. This is the final chapter of the Zenithian trilogy, concluding in an expansive quest of a young Hero who sets out to learn the truth about his world and the mysterious phantom realm that lies beneath. Journeying across a vast and dangerous land, players must confront the Hero's destiny and recover his long-lost memories in order to unite and save the two worlds...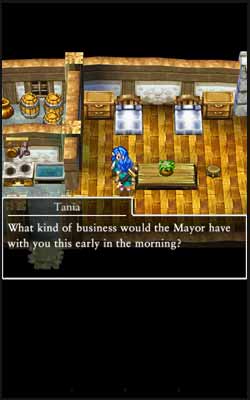 The role-playing game (RPG), Dragon Quest VI: Realms of Revelation is now available for mobile phone and tablets The game was originally released in Japan back in 1995, with an English version released for the Nintendo DS available in 2011.
For those that have played the previous game in the franchise (Dragon Quest V: Hand of the Heavenly Bride) Realms of Revelation is easy to pick up and play - it's pretty much the same design only with slightly updated graphics. The story sees you play as the same blue, spiky-haired character who we've followed for several games now. He's older and more mature, but you still start the game from the point of view of not having any real skills, in a bid to ease new gamers into the universe.
In what is basically an in-game tutorial, you are sent on a quest at the start of the game. This involves you finding the major's house and then delivering goods to another village. It's here that you learn that selling and buying items from the first merchant you meet isn't necessarily the best way to make a profit.
On your travels you can recruit a following of faithful friends in the riven realms, from wandering warriors to amnesiac teens. Faithful companions can be instructed to fight to bring down even the toughest enemies with ease. Heroes and their companions can complete vocational training at Alltrades Abbey to learn and master a multitude of spells and special abilities.
You can can recruit, train and battle slimes in the Slimopolis to test their mettle in a series of arena battles with fabulous prizes on offer for any slime tough enough to emerge victorious.
The Slippin' Slime mini-game challenges players to manoeuvre around perilous pitfalls and obstinate obstacles. While, in the Casino, you can try you hand at the poker tables and slot machines and exchange tokens for rare and unique prizes.
The only slight problem I had was with the Quick Save function. You can either save the game at one of the churches you encounter, or Quick Save the game at any time. The problem with this is remembering, when you go to start playing again, whether you need to open the quick save data or the normal save data. You can also save to your Cloud account so that if you delete the game and reinstall it later, your progress won't be lost.
For some, £11 may seem a little expensive for a game they may have already bought once. It's only four years ago that this was first available in the West, so if you already own the DS edition it may not be worth picking it up again. However, if you don't have this then it's well worth buying.
If you're a fan of the series then there are no surprises here. What it does offer you is the change to experience the natural progression of a character that has matured throughout the series.
Another solid game that will bring hours of entertainment.
10
Darren Rea