Scribblenauts Unlimited

Format: iOS (iPad, iPhone, iPod Touch)
Publisher: Warner Bros. Interactive Entertainment
Developer: 5th Cell Media
RRP: £3.99
Age Restrictions: 9+
Release Date: 15 December 2015
Welcome to an adventure into a wide-open world, where the most powerful tool is still your imagination. Help Maxwell solve robust puzzles across dozens of seamless, free-roaming levels by summoning any object you can think of. Or you can apply adjectives to existing objects and magically transform their properties. Then learn the back-story about Maxwell's parents, 41 siblings (including his twin sister Lily), and how he got his magical notepad...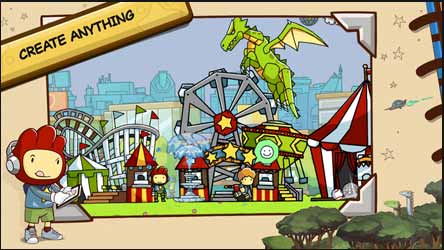 For Scribblenauts fans, you'll need no introduction to the world, nor any endorsement from me. If you've played any of the previous installments, then you'll already know what to expect.
As with previous games in the series, your quest is to solve puzzles in order to collect starites. The game opens with an explanation of how Maxwell originally received his magic notepad. However, he rather foolishly uses it to get up to mischief and so he winds up being punished by a powerful wizard who casts a spell on his sister, Lily. The spell is slow working, and Lily is gradually being turned to stone. Now, Maxwell must travel through his world doing good deeds for others and collecting starites in return in the hope that if he earns enough he can undo the magic and save his sister.
Scribblenauts Unlimited is fun, but not overly challenging. In fact I managed to complete the main game (collect just 60 starites) in just over a weekend. But there's still plenty of gameplay left as you try to obtain all starites (I'm guessing there are 100).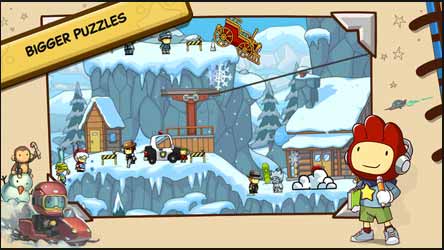 Part of the fun of playing is coming up with strange and mysterious creations and then letting them loose in your world. You can do this randomly, or during a quest. As you walk around your world you'll happen across plenty of locals who need your help. Whether it's just asking for an easy item, or something a little more cryptic, there's plenty of fun to be had trying to work out how best to help.
I was particularly surprised how many times "wings" came in handy. Mainly for helping you reach hard to get to areas, but also to help characters escape danger or get to another destination.
It's a fun and engaging game, and thanks to the fact that no rude words can be used, this is a game for all the family to play.
8
Darren Rea