LEGO Marvel's Avengers

Format: Xbox One
Publisher: Warner Bros. Interactive Entertainment
Developer: TT Games
RRP: £39.99
Age Restrictions: 7+
Release Date: 29 January 2016
The best-selling LEGO Marvel videogame franchise returns with a new action-packed, Super Hero adventure. Join the LEGO Marvel's Avengers team and experience the first console videogame featuring characters and storylines from the critically-acclaimed film Marvel's The Avengers, the blockbuster sequel Marvel's Avengers: Age of Ultron, and more. Play as the most powerful Super Heroes in their quest to save the world...
If you love the Marvel's Avengers movie franchise and you're a fan of the LEGO game series, then you're going to totally fall in love with LEGO Marvel's Avengers. This game franchise just goes from strength to strength and this is another game that rewards those that take their time and explore/smash everything rather than racing through each level.
Of course, as with previous LEGO games, there is plenty of replay value. Each level will hide some goodies, most of which you can see but can't get to. These areas, and their bounty, can be accessed later in the game when you've unlocked a specific character.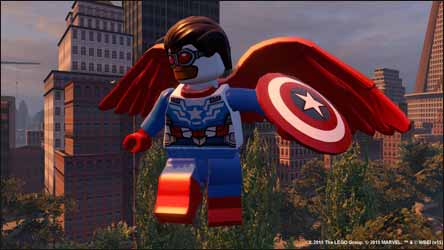 The game includes a diverse roster of Marvel's Avengers characters. You can unlock over 100 new and returning characters with an array of exciting capabilities, including fan favourites like Hulk, Iron Man, Captain America and Thor, new characters from Marvel's Avengers: Age of Ultron, and more.
It incorporates new and enhanced powers and abilities. Battle in new ways with enhanced powers and character abilities. Team up with core Avengers to execute incredible combo moves. Each level allows you the ability to collect gold bricks, studs, and unlock additional characters.
On the negative side, the options only allow you to turn the music on/off you can't change the volume and there is a terrible sound mix that sees the vocals so quiet and mumbled that you'll be forced to either turn the music off completely or just ignore the voices.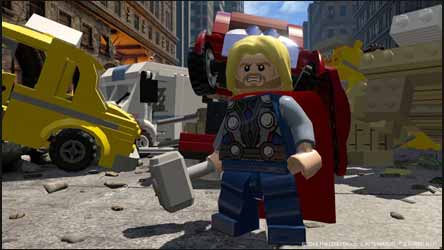 Also in the opening stages it was incredibly tedious trying to work out what to do and where to go. Thankfully you can bring up the controls menu to see what buttons do what. Normally in these games jumping LEGO bricks mean that if you stand near them and press the action button you can build something of use. But for some reason I had a hard time getting this to work in the early levels. In addition I kept accidentally using the flying ability and then having trouble getting back down to earth. It takes a bit of getting used to the controls, but then I'm sure younger fans will pick this up quicker than I did. I must be getting old.
It's another fun, enjoyable game in the franchise that will provide weeks of enjoyment.
9
Nick Smithson