Blues and Bullets
Episode 2
Shaking the Hive

Format: PC
Publisher: A Crowd of Monsters
Developer: A Crowd of Monsters
RRP: £12.99
Click here to buy (Steampowered.com)
Age Restrictions: TBC
Release Date: 29 March 2016
Having retired from law enforcement, following his successful jailing of Al Capone, Eliot Ness turns his back on his old life and opens a diner. Years later, he is visited by an unknown man who takes him to see his old nemesis, Capone, who needs Ness's help in finding his kidnapped granddaughter...
So starts Blues and Bullets, an episodic noir story, developed by A Crowd of Monsters, which owes more than a little to Sin City. You get to play Ness as he wanders around looking for clues and getting in the occasional gun fight. The game is not an historical recreation, more of an alternative history with a little added seasoning of steampunk in the flying airships.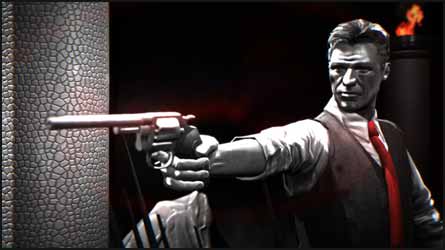 The look of the game is mainly monochrome with the occasional use of red to highlight certain aspects. As it turned out this limited palette works surprisingly well. The picture is detailed. However, while I thought the use of rain on the fictional camera lens worked well, for the most part, there were times when the game could have done with less, but overall it made for a very atmospheric experience.
The voice acting is good, if occasionally variable outside of the main cast, but more importantly the story telling is compulsive. The first episode opened with two children in a dungeon; a boy and a girl, by the time Ness meets Capone we're guessing that the girl is the kidnapped granddaughter.
But this is no ordinary dungeon as there is also a male there, dress in garb that would indicate that the girl is in the hands of some cult and the fact he is sharpening bloodied knives lets you know that you and Ness do not have all the time in the world before the girl's throat is cut. It's a good set up for the game, as it leaves the gamer with no answers about whom the weird guy in the antlers was or why he would want to abduct Capone's grandchildren.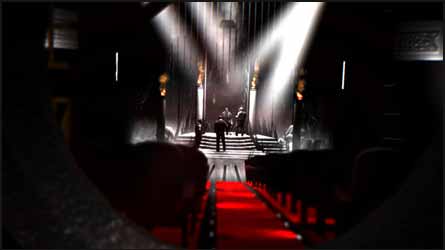 Gameplay is pretty average for this type of game, although there is more weight given over to the detective side of things. As Ness you can wander around, it's not really an open world situation - stray too far from where the game needs you to be and you'll discover invisible barriers. The game expects you to examine everything in your environment and the choices you make effects the story.
Although the game is not without its flaw, there are a couple of minor technical issues which betray the games indie budget, it is overall a very financially reasonable and entertaining way of whiling await two to three hours an episode.
Be warned, however, as you'll need to own and complete Episode 1 in order to play Episode 2. And in addition, after the low retail price of the first part (£3.99), some may find the £12.99 price tag of Episode 2 a bitter pill to swallow.
7
Charles Packer