LEGO Jurassic World

Format: Android
Publisher: Warner Bros. Interactive Entertainment
Developer: TT Games
RRP: £3.99
Click here to buy (Google Play)
Age Restrictions: 9+
Release Date: 30 March 2016
The excitement of all four Jurassic films is now available to mobile gamers for the first time, spanning more than two decades of epic films from Universal Pictures and Amblin Entertainment, including Jurassic Park, The Lost World: Jurassic Park, Jurassic Park III and the recent box office blockbuster Jurassic World. Reimagined with TT Games' signature LEGO humour, the thrilling adventure recreates unforgettable scenes and action sequences from the films, allowing fans to experience for themselves the franchise's most memorable moments and the opportunity to fully explore the expansive grounds of Isla Nublar and Isla Sorna...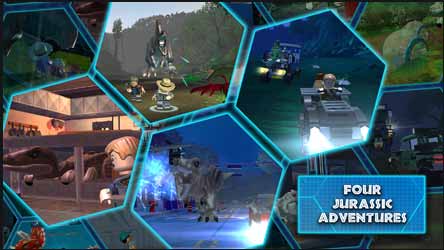 In LEGO Jurassic World, players can take on the roles of Jurassic film characters, such as Owen Grady (Chris Pratt), Claire Dearing (Bryce Dallas Howard), Ian Malcolm (Jeff Goldblum) and Dr. Wu (BD Wong), throughout 20 story levels on a mission to collect precious amber containing dinosaur DNA. Players can use the DNA to build their dino collection, mix their pieces to create an original species with the Dino Customiser by mixing and matching colour, body parts and abilities or fill the giant footsteps of the LEGO dinosaurs and actually play the game as the beasts themselves.
Last summer (June 2015) Warner Bros. Interactive released LEGO Jurassic World for PC and Consoles. Now Android and iOS owners get a slightly watered down version for mobile devices. When I say "watered down", I mean no disrespect to the finished product - which is a whole heap of fun. It's just that, obviously not everything that was achievable on the console edition would translate very well to tablets. What the developers have done is rework the original to give mobile device owners an experience that is fine tuned to playing on the go, but tried not to compromise on quality.
For the most part they've managed to achieve this. The levels are short and pretty simple to complete. As with previous LEGO games the fun is collecting and unlocking everything. To get the most out of the game you really need to smash everything in the environment. This releases LEGO studs which you can collect. There are also other items hidden around the environment (some of which it is not possible to reach until you unlock new characters later in the game), You can also buy items in the Jurassic store on the main menu.
Part of the fun with these games is the cut sequences that follow the plot of the movies, but with a cheeky helping of LEGO humour. This game includes dialogue from the films. In addition music from the movies is included as you play the levels.
The gameplay is straightforward enough, move through the level and swap between characters to open up areas that only that character can reach (through a special ability like shooting a weapon, or digging in dino poo to find a hidden item). On occasion you can control some of the dinosaurs, and there are levels where you have to run away from dinosaurs. To be honest, there's not much of a challenge here as you can't be caught, the idea of these levels is to collect as many LEGO studs as possible, as well as a special item. The developers do neatly shake things up a bit to stop you getting bored.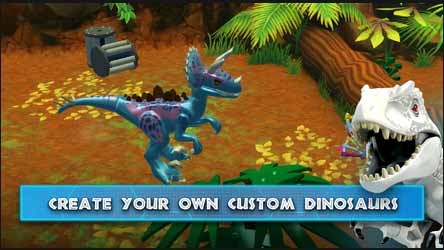 To start with, it can be a bit tricky to get used to the controls - especially when it comes to jumping or swinging on vines - but stick with it and it soon becomes second nature.
The game opens and gives you the option of playing through the story of the first Jurassic Park film, or the new Jurassic Word. This is a great idea as it ensures that young players can jump starlight into the characters and situations they know from that movie, while older gamers, like me, can play the games in movie release order.
When you've unlocked various dino parts, you can customise your own dinosaurs and use them in a special area of the game.
The only minor complaint I had was that on occasion the game would crash for no apparent reason. And, more annoyingly, Jurassic Park III was incredibly fiddly. There are parts of the game where you have to use a parachute to reach another platform. It took me loads of attempts, and in the end it was pure luck that I managed to achieve it. On another level you have to jump to a vine and then swing to another area. However, there's not much swing in the vine and again it took me so many attempts to complete it that it started to become really annoying.
These issues may prove to much of a pain for some and they may even give up (thinking that this isn't what you're supposed to do to get further in the game).
This is a steal for £4. While the main game won't take you much longer than a weekend to complete, there is much more replay value in revisiting the levels with new characters and reaching previously unreachable areas of the map as well as trying to complete all the challenges for each level. This will certainly keep young minds entertained (and, more importantly, quiet) on long car journeys or rainy days.
9
Darren Rea