Clockwork Brain 2.0

Format: iOS (iPad, iPhone, iPod Touch)
Publisher: Total Eclipse
Developer: Total Eclipse
RRP: Free to play
Age Restrictions: TBC
Release Date: 21 April 2016
For fans of the original Clockwork Brain, developer Total Eclipse has reworked the brain training App to incorporate a host of new games, modes, challenges and a remodelled game economy which focuses on fair play, not pay to play. Clockwork Brain 2.0 is not a sequel but more of an evolution. In Clockwork Brain 2.0, players once again join 'Sprocket', the beloved robot mentor, and challenge themselves to 17 unique mini-games designed to hone cognitive abilities such as attention, language, memory and more...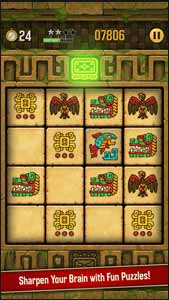 Clockwork Brain 2.0 is an upgraded version of the 2012 edition of Clockwork Brain. And, if you already own that... then worry not as you'll automatically be given the option to upgrade when you next play.
While not a bad logic puzzle game, there are so many of these on the App Store, that it comes down to whether or not you can get on with the puzzles and whether the interface is easy to get to grips with.
While this is a free to play game, you can access Premium content. At the time of writing this review the price for Premium was on sale at 73% the normal price (£10.99 rather than the standard, ludicrous £79.99). And what does Premium get you? You only get access to a handful of Premium exclusive games and unlimited energy (which means you can keep playing as long as you want). Seems a bit expensive - especially as you'll probably only want to log in and play Daily Boost, which randomly chooses four different games.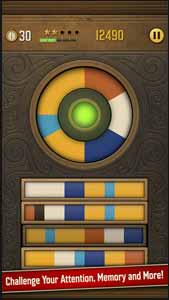 The games are split into the following categories: Reasoning; Attention; Language; Memory and Dexterity.
You also have access to Helpers and Boosters as you progress through the levels. However, I found these a little odd and rather pointless. Surely, if you're trying to keep a track on whether or not your gameplay is improving using these cheats really defeats the object. For me, part of the fun is trying to beat my previous scores - but when you factor in Helpers and Boosters you're unlikely to beat those scores until you get another Helper or Booster.
There were some bugs at roll out, but these have been addressed with another patch, but now the Percentile Rank (which shows how you compare with the rest of the online players) only appears to be working when it feels like it.
The graphics are bright and colourful and you're given a quick rundown of how to play each game on the first time you play it - there's also a brief text explanation on that game's main page in case you need reminding on repeat visits.
Overall, not a bad brain training App. And as it's free what have you got to lose?
7
Nick Smithson