Riptide GP: Renegade

Format: Xbox One
Publisher: Vector Unit
Developer: Vector Unit
RRP: £8.99
Click here to buy from Xbox Marketplace
Age Restrictions: 12+
Release Date: 24 February 2017
Experience the future of illicit hydrojet racing, where armoured riders kick out death-defying stunts over massive waterfalls, dodge cops through public waterways, and boost at breakneck speeds across surging waves. You are a hydrojet rider, framed and cast out from the Riptide GP league, forced to race illegally through city waterways, flooded ruins, and churning factory machinery in an effort to reclaim your reputation and your title...
Riptide GP: Renegade was released last year (2016) for PC and PS4 and now it's finally time to rev up your engines on the Xbox One.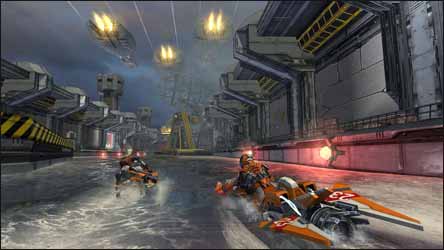 The main area of the game is the single player Career mode where you can get used to the racing and special skills before you head online to compete against other players. Career mode is entertaining, although you won't get too engrossed in the story of the characters because it's pretty shallow.
The game play is simple. You must ride your hydrojet through the environment, trying to beat the other players. Every now and then there are optional jumps that you can glide over and if you perform a special move successfully (by moving the analogue sticks in various directions) then you'll receive a little energy towards your boost ability. The more tricks you can perform the more energy you can store, ready to unleash when you need that all important boost in speed.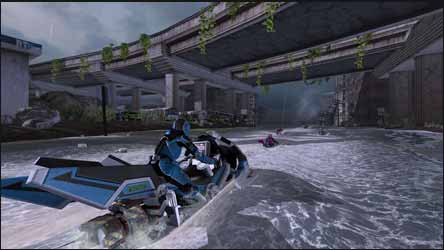 In the early levels it's worth replaying each race until you finish first, as you'll get a load more cash and experience points which can be traded in for improvements to your vehicle as well as unlocking special moves. You'll also want to level up your vehicles as soon as possible as they handle quite poorly when you first unlock each one.
There are various different races including standard races (where you win if you come first); elimination races (when the clock ticks down the person in last place is eliminated and the timer starts again - until there's only one rider left racing); and slalom (weave in and out of the designated barriers. The fastest racer with the fewest mistakes is the winner).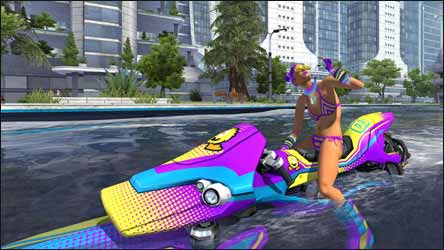 Modes include the aforementioned Career (the game's single player story mode); Challenge (where you can climb the leaderboards in this ghost-racing challenge); Quick Race (chose a track and race away); Online Multiplayer; and Split Screen local mode.
It's a fun, very addictive, racer that doesn't pretend to be something it's not. At its heart this is a good, solid arcade racer that puts the fun back into the genre. For under a tenner, you can't go wrong.
8
Darren Rea