Table Top Racing
World Tour

Format: Xbox 360
Publisher: Playrise Digital
Developer: Playrise Digital
RRP: £11.99
Click here to buy from Xbox Marketplace
Age Restrictions: 3+
Release Date: 10 March 2017
Jump into the driving seats of all 16 super-cool miniaturised racing cars, taking a grand tour of 8 unique locations around the world. There are 32 courses to master and 12 Championship Trophies to collect. The Championships consist of more than 120 individual events featuring 9 different gameplay modes, plus an additional 54 rule-bending special events. To fully complete special event challenges, players must learn all tracks inside out while effectively dealing with route changing destructible objects mid race. Players will also need to discover and use multiple shortcuts per track as well as unlocking and mastering 'Super-Weapons' and 'Wheel-Weapons'... In addition to the extensive single player mode, players can jump online and challenge up to 8 friends with the vindictive-yet-addictive multi-player combat mode...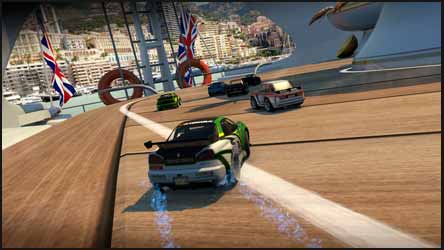 Many moons ago I bought the first Micro Machines racing game for the original Playstation console. I always look back fondly at that game, mainly because it wasted a lot of rainy weekend for me and my son. But also because it incorporated the collectability of the Micro Machines cars (which my son collected) and the fun of video game racing that was the console equivalent of Scalextric.
A few years ago we were digging through some old boxes and came across the Micro Machine game and it occurred to me that no one had actually managed to successfully repeat the fun of the original... and then a press release for Table Top Racing: World Tour arrived in out inbox. Since playing this game I've discovered that there were many more Micro Machines games, including a new edition for Xbox One.
While I was aware that Table Top Racing had already been released on tablet and PC, to be honest I'm not a big fan of cluttering up the work PC with games and tablet games are generally pretty dull. So, when I heard they were releasing this for Xbox One, I was slightly concerned at how they were going to handle it. The £12 price tag made me think it was probably going to be pretty ropey, or at the least very shallow. Thankfully neither of these were true.
Table Top Racing: World Tour brings all the fun and excitement of diecast car racing into the present. However. the fact that a new Micro Machines game is also available (with a RRP of £20) might mean that some overlook this offering from Playrise Digital.
The game collects together all the content released to date into one bundle. On previous platforms, players could only host and play multi-player games with other users that had the same DLC packs. Multiplayer 'fragmentation' is an issue with this Xbox One release.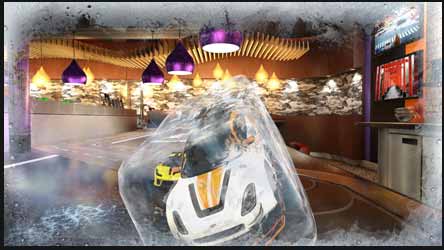 It's pretty easy to get to grips with. Chose a car and race. There are numerous variations to the races on offer but nothing you haven't seen a thousand times before. Each time you win a race you collect credits which can be used to buy new cars or upgrade the cars you have. Obviously you'll need to upgrade the cars in order to win some of the later races, and you'll want to make sure you have the right class of car for the level of race you're in. You can play the solo campaign, where you move up through the levels, or play online with friends or strangers.
The environments are interesting (if you get a spare few minutes, take a slow drive around the '80s loft circuit. There are some amusing (not to mention nostalgic if you were a child of that age) elements dotted around the track.
If you're looking for a fun, novelty racer, then Table Top Racing has everything you're looking for.
9
Darren Rea