Everspace

Format: Xbox One
Publisher: Rockfish Games
Developer: Rockfish Games
RRP: £24.99
Click here to buy from Xbox Marketplace
Age Restrictions: 7+
Release Date: 26 May 2017
Everspace is an action-focused single-player space shooter that takes daring space pilots on a challenging journey through six sectors, each featuring dozens of procedurally-generated levels full of dangers and treasures. In each run, you will face entirely new situations, continuously testing your skills, experience, and talent for improvisation. Great piloting skills will be needed to stand a chance against various enemies, along with a keen eye for loot and mineable resources, which are used to repair damaged ship components or to craft new equipment and modifications, giving you an advantage in combat and a better chance of making it out of a sticky situation alive...
For years I've been waiting for a space adventure game that took the best elements of Elite (1984) and Microsoft Combat Flight Simulator: WWII Europe Series (1998). I have to say that Everspace is probably the closest we've come yet.
Originally crowdfunded, Everspace is not an easy game to get to grips with. I'm still having issues with the sensitivity of the controls (even with them turned down as low as they'll go) and attacking enemy craft, while you fly around, is not an easy skill to master. You'll be tempted to stay in one position, but that just makes you a sitting duck.
Don't expect to survive for very long, as the game play is punishing... but it's supposed to be challenging, because as you progress through the game you'll be able to unlock abilities and upgrade your ship in order to swat enemy craft that were previously impossible to beat.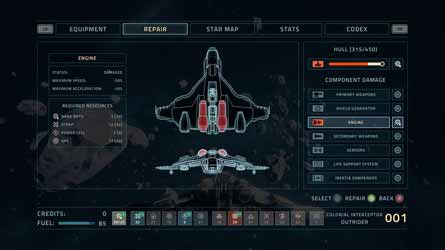 It features three unique player ships, each with different capabilities and starting gear to choose from; In-depth crafting and damage system; Dynamic, functional cockpit displays for all player ships (you can change the camera view from third to first person at any time during the game).
It's a pretty engaging game with above average graphics. If you put the hours in then you'll find this an engaging and thoroughly enjoyable offering.
7
Nick Smithson