Semispheres

Format: Nintendo Switch
Publisher: Vivid Helix
Developer: Vivid Helix
RRP: £8.99
Click here to buy - nintendo.co.uk
Age Restrictions: 3+
Release Date: 14 September 2017
I have previously reviewed Semispheres for the PS4. a 2D puzzle game. It's the brainchild of Radu Muresan, a developer from Vivid Helix, which has now been released, at a budget price, for the Nintendo Switch. The game looks great either on the Switch or on the television through the dock.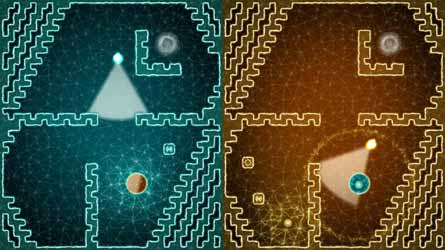 The game seems much more at home on the Switch in its native hand-held mode. For a start, if you've kept the coloured controls, the split screen between the left and right frames seems much more intuitive as they almost mirror the Switch's colour scheme, offering up a bluish colour for the right and a yellowy brown for the left. There is an ambient soundtrack by Sid Barnhoorn, which adds to the relaxed feel of the game and the added sound effects are a welcome addition.
The balls of light are controlled by the left and right analogue sticks with the bumper acting as an action trigger: left for the left screen and right for the right screen. Your spheres look like little jellyfish and it is these which you will be predominantly controlling. The controls are very instinctive and while there is no tutorial the controls are popped up on the screen to let you know what is required.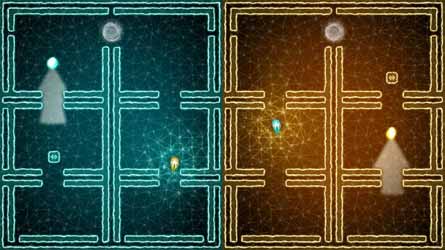 Solving the puzzles reveals a story, and depending how you look at it its either a nice addition which adds context to the game or unnecessary frippery. Personally, I though it gave the gamer an extra incentive to continue with the puzzles.
Your jellyfish starts at the bottom of the screen and these must be moved to the portal at the top of the screen for you to progress. As there is interaction between the two parts of the screen, through gaps which allow the opposing jellyfish to appear on their opposite screen, jelly fish can affect the sentinels trying to stop you.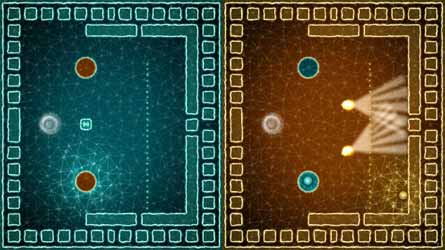 Get too close to the sentinels, they have a beam of light which they shine in front of themselves, and the game will reset the offending half of the screen, but not the other. This can often be used to solve some of the puzzles. Stealth is often the name of the game to solve the puzzles and the sentinels can be distracted by the noise boxes which are provided. As you progress your options increase but so does the difficulty of the puzzles.
The game offers up fifty levels to complete and overall offers up a unique experience which feels very at home on the Switch.
8
Charles Packer