Project Cars 2

Format: Xbox One
Publisher: BANDAI NAMCO Entertainment
Developer: Slightly Mad Studios
RRP: £49.99
Age Restrictions: 3+
Release Date: 22 September 2017
Project Cars 2 is the next evolution in the award-winning racing series, featuring the most iconic cars under the most thrilling of conditions to deliver the "Ultimate Driver Journey" experience and adrenaline rush. Created by gamers, tested by world-class racing drivers, and the definitive choice of e-Sports pros – Project Cars 2 brings together the essence of real racing in the most beautiful, authentically crafted, and technically advanced racing game on the planet. Project Cars 2 has it all - from GT to touring cars to endurance prototypes and exotic hypercars – delivering the full spectrum of motorsport racing with complete freedom to choose what and where to drive. Anytime. Anywhere...
First things first. If you don't have a decent steering wheel for your Xbox One, then don't even bother buying Project Cars 2. Firstly, if you don't own a steering wheel, it means you're not a serious driving fan; and secondly the game is pretty much unplayable using the humble controller. Although, you can search online for recommendations on how to change the control settings to make it a better experience.
Those that bought, and were disappointed by the previous game in the series probably won't be returning for this outing. To be fair, if you didn't get on with the last game, there's little chance that you'll warm to this new offering. Why? Well, the simulation aspect of the first game - the thing that annoyed and frustrated so many gamers - while tweaked, is still a little too temperamental.
This time around there are 9 motorsport disciplines, 29 motorsport series, 180 cars and over 140 tracks set in 60 locations.
When you first start out you'll find it next to impossible to keep up with the other cars and there's no way in hell you're going to fly round the corners like they do. One slight turn too sharply, one misjudged speed approach to a curve... and off you fly. And it's not a slight move into the rough, you'll be flying for quite some distance, making it hard to get back on the track and rejoin the pack. But stick with it, put in hours of practice and get to know your car of choice and you'll soon be whizzing around the races without too much of an issue.
Also, if you collide with another car, you can pretty much kiss your position goodbye. But then all of these issues will be welcomed by those who want a racing sim that is near to realism as is possible (ignoring the lack of damage to the cars).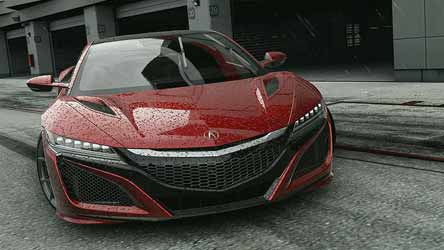 The game is more geared to a racing sim than it is a pick up and play fun driving game - but then if you want that there are plenty of other games on the market that will suit your needs. Petrol heads with a desire to tinker under the bonnet will find there's many hours of enjoyment to be had on the track and in the garage.
The graphics are impressive and the entire experience is pretty impressive if, and this is a big if, you can get to grips with the driving mechanics.
7
Nick Smithson