LEGO Marvel Super Heroes 2

Format: Xbox One
Publisher: Warner Bros. Interactive Entertainment
Developer: TT Games
RRP: £49.99
Age Restrictions: 7+
Release Date: 17 November 2017
Bringing together iconic Marvel Super Heroes and Super Villains from different eras and realities, this original branching storyline transports players into a cosmic battle across a myriad of Marvel locations ripped from time and space into the incredible open hub world of Chronopolis. Packed with signature LEGO humour for fans of all ages, gamers will go head-to-head with the time-travelling Kang the Conqueror through Ancient Egypt, The Old West, Sakaar, New York City in the year 2099, Xandar and many other imaginative settings in this fun-filled journey spanning the Marvel Universe...
LEGO Marvel Super Heroes 2 is an all-new, original epic adventure and sequel to the smash hit, LEGO Marvel Super Heroes.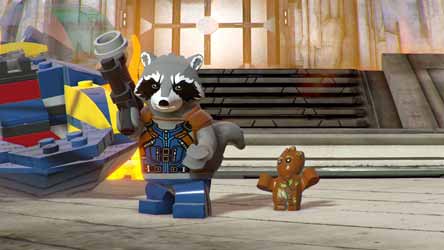 As the game progresses, you slowly unlock the familiar Marvel superheroes. This works well for a number of reasons. Firstly it means that you don't get overwhelmed with the sheer number of characters on offer and secondly, as you complete levels with your given super heroes, you'll come across hidden areas that can only be accessed later in the game when you have unlocked specific characters. It's easy to make a note of which characters you'll have to look out for in later levels
I really enjoyed the multistory mini game aspect. For example, the opening level sees you controlling the various characters from The Guardians of the Galaxy to complete a mini story, before moving on to some of the JLA characters to explore the Marvel mansion.
Normally the LEGO games feel and play much the same. In the past the game play seemed almost identical, it's just the characters that change to fit whichever movie is being adapted. With this game, however, it really did feel new and fresh. The graphics, for starters, seem much more polished than in previous games, with many of the LEGO background elements, like bushes and trees, having a more lifelike quality, while still retaining their obvious LEGO appearance. Yes, it's obviously still a LEGO game full of the same humour and cute graphics, but it felt like a major step forward.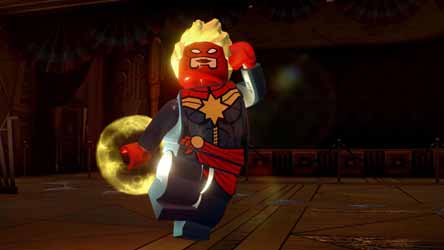 Like previous games in the LEGO series this outing rewards gamers who explore every area of the environment as well as smash up as much of the LEGO scenery as possible. This rewards you with studs which improves your ranking as well as unlocking items.
In the Marvel Mansion, Gwenpool has two helpful machines for you to use. One allows you to input cheat codes you may have come across, while the other allows you to buy special pink lego bricks in order to unlock special items.
The game allows you to explore 18 different Marvel locations ripped from time and space, all of which come together to form one huge, Chronopolis Open Hub World, including Ancient Egypt, The Old West, Sakaar, New York City in 2099, Xandar and many more.
The story picks up where LEGO Marvel Super Heroes left off, and features an original branching storyline, co-written by award-winning comic book author Kurt Busiek (Avengers Forever), bringing together a diverse roster of iconic Marvel Super Heroes and Super Villains from different time periods and realities.
There's a new time manipulation mechanic which allows specific characters to move time forwards or backwards to change the state of in-game elements, help players progress through a level or allow secrets to be discovered.
The game offers four-player competitive and cooperative Super Hero battle mode for friends and family to play together or against each other in a series of themed challenges and battle arenas.
Overall this is a lot of fun and, as always, there's more enjoyment to be had going back to previous levels to unlock areas or elements that were unavailable to you with the characters you had at the time.
9
Darren Rea