The Void Rains Upon Her Heart

Format: PC
Publisher: The Hidden Levels
Developer: Veyeral Games
RRP: £5.79
Click here to buy (Steampowered.com)
Age Restrictions: 16+
Release Date: 14 February 2018
The Void Rains Upon Her Heart is a new side scrolling action shooter from Veyeral games where you play an alien girl who is trying to love monsters until they are defeated. Defeat a monster and he may give you a gift. The game has three levels of difficulty, light, heavy and torrent. Steam achievements are also supported.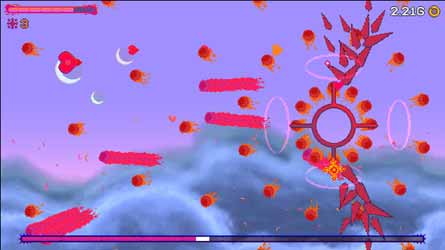 This is a shoot-em-up with some rough-like elements presented with a very eight-bit vibe. The game can be played from the keyboard, but for an easier life it supports a game pad. I tried it with an Xbox One controller and found the game very responsive to commands. Which helped greatly as I dodged around a bullet filled hell, slowly chipping away at the monster's health bar, which was always bigger than mine.
When you start you have only two real extra attacks. One creates a temporary shield of hearts which will damage/destroy enemies. This generally works well on the lessor monsters which are spawns, only on the main boss is it sufficiently weakened. Your second extra weapon is the ability to power up a one-off mega blast of hearts. Your main weapon can only fire from left to right.
You only get a single life to defeat the boss and although your heart ship is firing continuously this is harder than the graphics would imply. Defeated bosses will drop gifts which will improve your stats, the improvements are stackable. You can also acquire Karma, which allows you to unlock different monster cards. The cards contain information about the monster's stats, which will give you an idea on which ones you are likely to defeat, based on your own stats.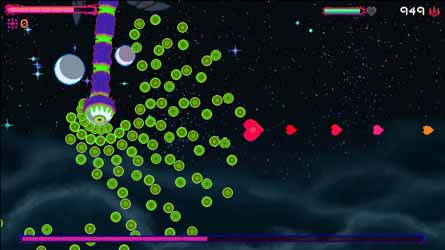 For what, on the surface, seems like a small game designed to cash in on Valentine's Day, it has a surprising depth to the challenging gameplay. As you progress through the story mode the game has some unexpected humour as well as contemplations on love and love lost. There is a growing level of difficulty, so that even if you face the same boss at different points the attacks may not be the same.
Overall, it is a good bullet fest boss level game whose sophistication and depth are belied by its presentation.
7
Charles Packer