Batman
The Enemy Within
Episode 5: Same Stitch
(The Telltale Series)

Format: Xbox One
Publisher: Telltale Games
Developer: Telltale Games
RRP: £5.99
Click here to buy from Xbox Marketplace
Age Restrictions: 18+
Release Date: 23 March 2018
What would you choose: a friend whose unhinged approach to justice turns your allies against you, or a sworn enemy who will stop at nothing to see you suffer as your city burns? Based on the relationship you've built with John Doe, you'll see one of two very different stories play out. So what'll it be, Bruce: friend...or foe...?
Episode 5, 'Same Stitch', in Telltale Game's Batman The Enemy Within is the final episode in this episodic series.
The main narrative of the game so far has been your ongoing friendship with John Doe. As the final end game draws near, Doe is finding it harder and harder to keep his psychotic personality under control. It's no surprise that Doe eventually become The Joker, Batman's greatest foe, and this episode sees the inevitable finally come to pass. You know that you and Doe are sworn enemies in the Batman universe, but how you part ways is totally down to you.
This episode ties up all the loose ends. Well, apart from one - your ongoing romantic entanglement with a certain character, but I'm assuming Telltale Games are holding that back for the third chapter. There's more than a few surprises in this episode and several split second decisions you'll have to make which will alter your relationship permanently with a number of characters.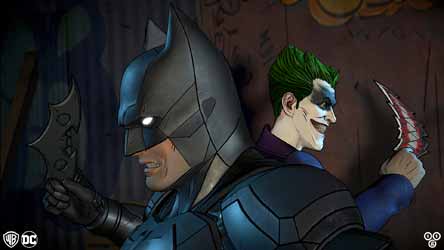 As before, the game play element is kept to a minimum and in this episode it's mostly fight sequences.
Overall, it offers a satisfying conclusion to the story arc, and the choices to made really did make it feel like you were totally in control of how the plot unwound. Obviously, if there's another chapter on the cards some of the choices will have to be cleverly unwound so as not to make the gamer feel like they've been cheated.
it's been one hell of a ride, and well worth it every second of it. There's additional playability to be had by resetting your stats and playing the game again to see what the other choices would have revealed, as well as trying to unlock all of the achievements.
8
Darren Rea