Hitman 2
Sniper Assassin Mode
(Early Access Bonus)

Format: Xbox One
Publisher: Warner Bros. Interactive Entertainment
Developer: IO Interactive
RRP: Free Early Access when you purchase Hitman 2 (£59.99)
Age Restrictions: 18+
Release Date: 07 June 2018
Hitman: Sniper Assassin is a stand-alone experience that embraces the core elements of a Hitman game, as seen through the sniper scope of Agent 47. Prepare for Hitman 2 and enter the World of Assassination today through this sniper mission that tasks you with eliminating an international gang of thieves. The entire mission takes place with Agent 47 perched in a sniper nest, overlooking a lush Chateau and its surrounding gardens during a lavish wedding ceremony. You choose how and when to manipulate the environment and eliminate your targets to earn the highest score on the leaderboards...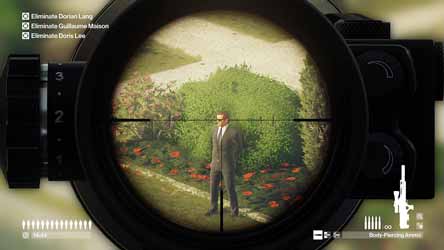 For those that preorder Hitman 2 Standard, Gold or Collector's Edition, you won't have to wait until 13 November 2018 to get your hands on some of the new gameplay, as the developers are kindly offering you a sneak peak of what to expect with the new Sniper Assassin mode free to download now.
The mission is simple enough. Find and dispatch three targets and their bodyguards, without alerting any of the targets or security. The location is the grounds of a Chateau where the rich and famous are in attendance for a wedding. Your three targets are guests at the wedding, but you'll have to be quick and careful as you'll only have 20 minutes to get in and get out unnoticed.
For the first time in the Hitman franchise, play online co-op with a friend. Choose a new operative and combine your ammo types and rifle upgrades for lethal and playful combinations.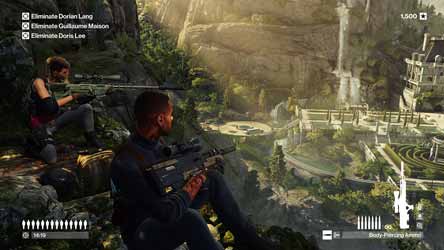 The game is pretty simple and you should easily complete the mission after a handful of goes. But it's not the mission that's important, it's how you execute it. On the first few plays through you're best advised to find and watch your targets to see what path through the grounds they take. You can dispatch the bride's father almost immediately as they arrive in the limousine, but this will also mean killing two innocent civilians (the bride and the chauffeur) which will lose you points.
And once you complete it once you'll rack up a score on the online leaderboard. Try again, unlock additional perks and helpful gadgets and try and perform some of the special moves and bonus tasks in order to gain more points, moving you up the leaderboards.
You will also need to scour the environment to find out where the body guards are hiding out. Watch where they patrol and make sure you take them out where they won't be discovered. Some can be shot into the fishponds or off the edge of the grounds meaning there's no chance they'll be spotted. Others you'll have to hope and pray no one finds and if they do you'll need to be quick to take them out too.
You also get three types of bullets (including an armour piercing variant) but in this "demo" version of the game you don't really need to use anything but the standard issue rounds.
Sadly I wasn't able to play online with any fellow gamers. At this time you can only play co-op mode with people in your friends list and as none of those had either bought the game or if they had, they weren't online, I couldn't explore this element of the game. I'm hoping that when the full Hitman 2 game is released that there will be an option to pair you up with other online gamers that are not in your friends list.
I loved the last Hitman series, so I'm really looking forward to seeing what the developers deliver - and the new Sniper Assassin mode has really whet my appetite for what is to come.
9
Nick Smithson