TerraTech

Format: Xbox One
Publisher: Payload Studios
Developer: Payload Studios
RRP: £19.99
Click here to buy from Xbox Marketplace
Age Restrictions: 7+
Release Date: 10 August 2018
Explore, build, craft and battle across alien worlds in this physics-based construction sandbox adventure. Design cars, tanks and planes from a huge library of blocks. Scavenge, craft and buy new parts in order to survive and become the ultimate planetary prospector...
TerraTech is an open-world, sandbox adventure game, where you design and build your own creations through a mix of crafting, combat and discovery.
If you're not a fan of building games then there's little here that will make you change your mind. The crafting of vehicles is at the centre of the gaming experience here. The actual combat and driving around is a little buggy at times and certainly takes a lot of getting used to.
The game includes a number of single player modes: You can fight enemies, complete missions and work your way up the ranks in 'Campaign'; Explore and build with or without the threat of enemies in 'Creative'; Or build the fastest Tech you can and beat your previous race times in 'Gauntlet'.
If you want to play with other gamers then you can jump into 'PvP Multiplayer'. Jump into a 16-player PvP battle to win the most fights within the time limit, or team up in a classic red vs. blue match. Choose from the four pre-made Corporation Techs and its additional starting blocks, grab and build as you fight, earn kill streak rewards, and protect your cab at all costs.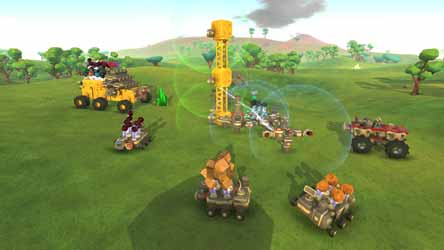 Or you can design your own creations and share them online with other gamers.
Overall this is a fun offering for sandbox construction junkies. The graphics are bright and bold with a retro feel. For those that enjoy crafting and slowly moving up through the ranks this will prove to be an interesting diversion.
6
Nick Smithson