Warhammer: Vermintide 2
Shadows over Bögenhafen (DLC)

Format: Xbox One
Publisher: Fatshark
Developer: Fatshark
RRP: £7.99
Click here to buy from Xbox Marketplace
Age Restrictions: 18+
Release Date: 19 September 2018
The first DLC for Warhammer: Vermintide 2 introduces the city of Bögenhafen - a mercantile city suffering from the spreading Nurgle corruption slowly overtaking the Reiklands. Uncover the source of the infection and destroy it before Bogenhafen meets its end...
Shadows over Bögenhafen is the first DLC for Warhammer: Vermintide 2. At just under £8 (cheaper if you time it right - it's currently available from the Xbox store at £5.99) this really is a no brainer. If you've bought and enjoyed the main game then another £8 hardly seems too much to pay for the extras which will add many hours of fun to the gameplay.
I have to admit that while I still love and enjoy the main game a lot of the scenery was getting a little repetitive. So the chance to add a little variety and some new quests was a welcome addition.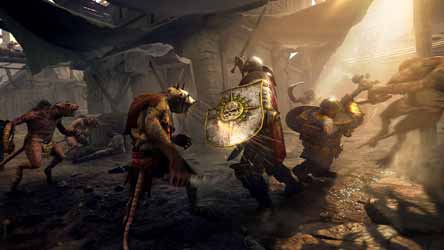 You get two new levels set in Bögenhafen ('The Pit' and 'The Blightreaper'); New cosmetics including hats, skins, portrait frames and illusions; as well as new quests and challenges.
With the impending destruction of the city of Bögenhafen our heroes are tasked with investigating the source of the Nurgle infestation slowly consuming the city - starting in the disease-ridden slums The Pit and across the river in the Göttenplatz district.
An essential purchase for those that own and love the original main game.
9
Nick Smithson