Pumped BMX Pro

Format: Xbox One
Publisher: Curve Digital
Developer: Warp Digital Entertainment
RRP: £11.99
Click here to buy from Xbox Marketplace
Age Restrictions: 3+
Release Date: 07 February 2019
Pumped BMX Pro is the next installment in the high adrenaline, fast-paced arcade BMX trickathon. Master 60 levels and over 200 challenges while pulling off as many radical stunts as possible on one of 15 bikes. Want to make it your own? Design your own bike and hit the grind to reach the peaks of global leaderboards...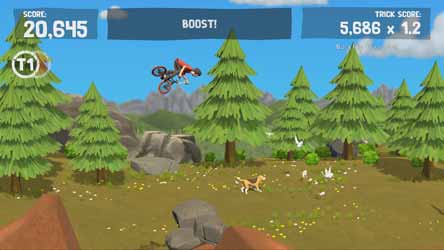 Pumped BMX Pro puts you back on the seat for another high adrenaline, fast-paced trickathon where chaining massive combos could put you at the number one spot on the global leaderboards. Pump your way through 60 levels of ever increasing difficulty, making sure you're racking up those platinum medals by completing Trick Challenges along the way. Choose from 15 riders with predesigned bikes, or get creative and design your own in the easy to use bike designer. The game features 15 characters, each with their own bike; 40+ tricks, from outrageous spins to insane grinds; Over 200 challenges, each harder than the last; 60 levels, from high top mountains to swampy depths; and Ragdoll physics, just in case you miss the ramp.
Keeping it simple, Pumped BMX Pro strips back the game play, allowing the gamer to focus on performing trick combos without any frills. The graphics are pretty basic, the mechanics sturdy, but rudimentary, and the game play is repetitive. On paper this shouldn't work... but somehow it does.
This is a game that is either going to frustrate you or have you hooked for hours. The best place to start is the simple tutorial to get to grips with the controls. When you've got the basics it's off to the tracks. The idea is to navigate the terrain successfully while pulling off as many tricks as possible. Each level has a set amount of tricks to accomplish (which are not compulsory to progress to the next stage) and then you can compare your score with your friends or the global leaderboard.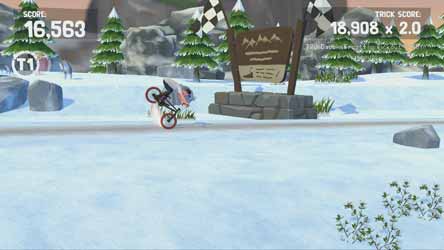 As you progress through the levels the terrain gets tougher. Also, look out for the comical background action that occurs every now and then. The design of the game is a 2D scrolling environment, which is more akin to tablet based app games than consoles.
If you're into this style of game you'll have a lot of fun. Personally it wasn't really all that challenging for me, but I can imagine if you have several friends that are also playing, the challenge to constantly beat them will keep you coming back for more.
6
Nick Smithson