Bow to Blood
Last Captain Standing

Format: Xbox One
Publisher: Tribetoy Inc.
Developer: Tribetoy Inc.
RRP: £TBC
Click here to buy from Xbox Marketplace
Age Restrictions: 7+
Release Date: 03 April 2019
Become the captain of an airship in a reality show. You and the other captains will vote at the end of each match to decide who is eliminated, until only the champion remains. You're in command: Fly your ship, forge alliances, plot betrayals, task your crew, manage resources, and become champion! Bow to Blood: Last Captain Standing takes place in a fantastical sci-fi world, a massive gas giant with mist-soaked floating islands and continents at the heart of a declining empire. Experience harrowing high-speed races, deadly battles with swarming assault ships, encounters with aerial beasts, mind-bending challenges, and more...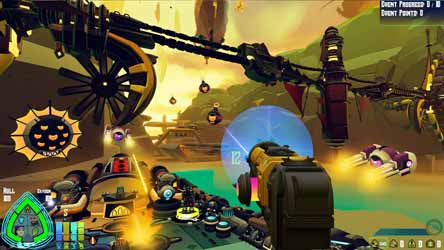 Bow to Blood: Last Captain Standing is a single-player action-strategy roguelike where you take command of an airship in a multi-stage competition being broadcast as a deadly reality TV show. The aim of the game is to keep your ship afloat managing the crew as you defend yourself from enemy ships, forge allegiances, and plot betrayals, all while searching for treasure. Just like any good reality show, you're not here to make friends. Being a cutthroat captain is serious business.
The graphics and gameplay are cartoon-like in their appearance and reminded me a little of Borderlands 2. The learning curve is pretty steep to begin with as their are quite a lot of controls to master. Although, the main controls to get you into the thick of the action are pretty straightforward, the options to choose different AI crew to man various elements of the ship are a little confusing at first. However, stick with it and it soon slots into place.
I've been playing this game for a couple of months now, and have been holding off writing a review because of one MASSIVE issue I had with it. I was hoping it would be fixed, but two months after release and it has still not been addressed.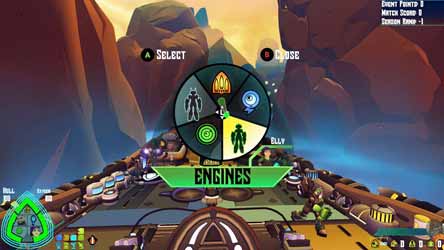 I'm one of those weirdo's that inverts the Y axis in games so that up and down are reversed. It's mainly because I used to be a big fan of flight simulators and pulling back on the yoke (down on the controller) allows the plane to climb. Bow to Blood allows you to invert the Y axis, but that's just for the flying controls. There's no way to invert the Y axis on the aiming controls. For me, that made the game pretty much unplayable... and I know I won't be alone. However, this issue won't be a problem to the majority of gamers.
Overall, this is an engaging and rather fun offering that's a little different from the majority of games out there.
6
Nick Smithson