Yaga

Format: Xbox One
Publisher: Versus Evil
Developer: Breadcrumbs Interactive
RRP: £20.99
Click here to buy from Xbox Marketplace
Age Restrictions: 16+
Release Date: 12 November 2019
Smash, clobber and bash the murderous legends of Slavic mythology in this darkly funny action role-playing game that changes every time you play. Play as Ivan, a one-handed blacksmith with incredibly bad luck, who must take on the impossible tasks given to him by the tzar. All the while the mysterious witch, Baba Yaga, watches over Ivan's fate...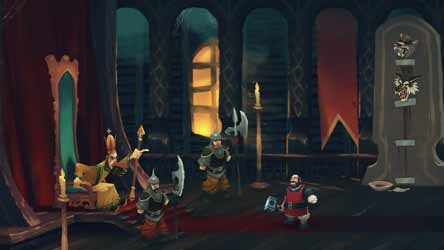 Yaga is an action RPG which features hand-drawn 2D artwork and a hip-hop soundtrack from Subcarpati. You start the game as Ivan, a one-handed blacksmith who is sent on a quest, by his land's tsar...
As you leave your village, and head into the unknown, you're met by many creatures and characters. Some have quests, others just want a fight, and some just want to chat. Your actions are constantly monitored and will change Ivan's story, his reputation, and the upgrades he can choose.
As you find items around the environment you can forge them to make new weapons and tools to help you on your quest. You can also experiment with talismans, magic items, blessings, perks, and curses to change Ivan's story. While the game can be completed in around 5-7 hours, there's loads of replayability as no two games will be the same.
The beasties you meet in the environments are pretty unforgiving and you'll find yourself dying... a lot. The first time you perish you'll get the opportunity to spawn straight back where you left off. The next time you'll be thrust back to the start of that level, and once again given two chances to amble through it. To help you in your quest you'll need to find items (usually dropped by defeated foes) in order forge and upgrade weapons and gadgets, as well as perfect new moves to dispatch your enemies.
The graphics are big, bright and bold and the vocal acting is incredibly well polished, giving life to the characters and events.
It's a fun game that will have you coming back for more. Ivan's grandma just wants him to find a wife. Don't disappoint her!
9
Nick Smithson