Cardpocalypse

Format: PS4
Publisher: Versus Evil
Developer: Gambrinous Limited
RRP: £19.99
Click here to buy from store.playstation.com
Age Restrictions: 12+
Release Date: 11 December 2019
Make friends, play cards, twist the rules, become a Mega Mutant Power Pets master, and try to save the world in this single-player RPG about being a '90s kid. On her first day at Dudsdale Elementary, 10-year old Jess accidentally gets everybody's favourite collectible card game banned, forcing the kids to take their card battles underground. Troubles arise when mutants from the game invade the real world, and it's up to Jess and her friends to stop them...
From the award-winning indie game studio, Gambrinous, creators of Guild of Dungeoneering, comes an RPG where battles are played with an epic collectible card game. Cardpocalypse takes you back to the 1990's, a time when computers used floppy disks, and people read magazines for video game cheat codes. You will explore Dudsdale Elementary on a mission to build killer card decks in an effort to defeat the mutants. You will have to trade, earn, wager, change rules and permanently alter cards on your way to victory.
Those who grew up in the '90s with collectable card games like Pokemon will love what Gambrinous does with the format in Cardpocalypse. While not technically a child of the '90s myself, my son was one of those swept up in the Pokemon phenomenon during that time and I remember how the craze overran his school. In fact, still to day, one of his fondest memories (I assume behind getting married and having a daughter) is when we took him to The Millennium Dome in London at the start of 2000 to a Pokemon event which saw all participants given a free Mew that was downloaded onto their Gameboys.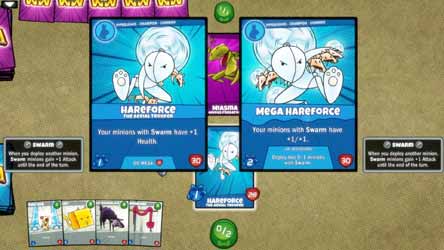 Cardpocalypse eases you into its world, letting the rules of the card game sink in over several battles, which also tie-in with getting to know your new environment - most importantly your new school, class mates and headmistress.
The graphics are bold and colourful and the ongoing storyline helps to keep you coming back for more.
Overall, it will be a fun nostalgia trip for some and a new and interesting adventure for others. Too many card games take themselves a little too seriously. This is lighthearted and easy enough to appeal to young gamers and those who usually shy away from the genre.
8
Darren Rea