Borderlands 3
DLC 1
Moxxi's Heist of the Handsome Jackpot

Format: PS4
Publisher: 2K Games
Developer: Gearbox Software
RRP: £11.99
Click here to buy from store.playstation.com
Age Restrictions: 18+
Release Date: 19 December 2019
Ready for the biggest score of your loot-hunting career? Moxxi has just the job for you: a good old-fashioned heist. She's looking to take control of a space station casino called The Handsome Jackpot. Should you succeed, a safe loaded with loot awaits! There's just one small problem: the casino houses an army of Hyperion security forces and crazed casino-goers. Will luck be on your side...?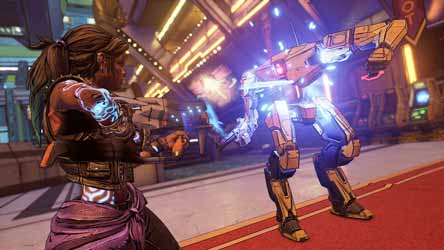 The first downloadable content (DLC) for Borderlands 3, Moxxi's Heist of the Handsome Jackpot, is now available. With a price tag of £12 you certainly get a lot of bang for your buck. gamers get the opportunity to explore a glitzy new galaxy packed with unique zones worthy of Handsome Jack's lavish lifestyle and dirty dealings.
It's the little touches that make this a constant delight. The casino has been closed for some time and as such the graphics are more reminiscent of the those in Borderlands 2, but brought up to date for the new game. The crates and boxes you can open, to find weapons and bullets, will remind you of those from the previous game (albeit graphically enhanced) and some of the old enemies make a welcome return.
Of course, and this is something you should already know, you'll need the original Borderlands 3 game to play this. And you can purchase the Season Pass to ensure that you get all of the future DLCs on release day. You'll also need to have gained access to Sanctuary III in the main game (by completing episode 5). It's also advisable that you've reached at least level 18 if you've any hope of getting through the levels without constantly dying. I was at level 20 and found it fairly easy to breeze through.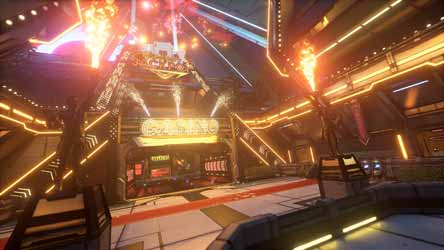 The other great thing about this DLC is that, if you spend the time, searching every nook and cranny, you can come away with a king's ransom in cold cash, as there are lots of loot boxes and casino machines that will drop money if you interact with them. There are also one armed bandits where you can pay to try your luck at winning more cash, rare weapons... or, if you're unlucky, a grenade or three in the face. Also be on the look out for the rare pontoon tables that give you a one off chance to win big.
If you're enjoying the main game, this DLC is an essential purchase as it opens up the universe somewhat and also offers up the opportunity to level your character up before you plow on with the main game.
Not just a knocked off add on, but an integral and well thought out addition to the main game.
10
Darren Rea