The Dark Crystal
Age of Resistance Tactics

Format: Xbox One
Publisher: En Masse Entertainment
Developer: BonusXP
RRP: £TBC
Click here to buy from Xbox Marketplace
Age Restrictions: 12+
Release Date: 04 February 2020
Lead a fledgling resistance of Gelfling against their oppressive overlords, the Skeksis, across more than 50 unique turn-based tactics RPG battles. Along the way, recruit and customize new allies by assigning them jobs, modifying their abilities, and outfitting them with equipment to ensure victory. With 14 playable characters, including familiar faces from the classic film and the new Netflix original series, build your own teams and devise winning strategies to overthrow the rule of the Skeksis and restore light to the Gelfling homeworld of Thra...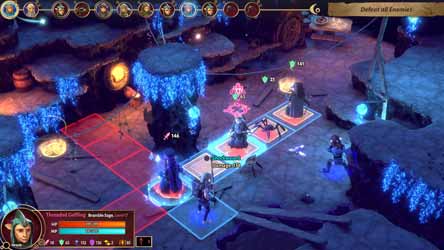 For some of us, The Dark Crystal (1982) holds a very special place in our hearts and childhoods. With Netflix's 2019 miniseries, The Dark Crystal: Age of Resistance, Jim Henson's magical world (created by artist Brian Froud) has captured the imagination of a new generation, as well as rekindling the magic and wonder for old fans of the movie.
The Dark Crystal: Age of Resistance Tactics is a turn based RPG that takes some familiar characters and pits them against each other in fairly run-of-the-mill setting. While it might not win any awards for originality, fans of The Dark Crystal will no doubt relish the opportunity to see their favourite characters transported to their consoles.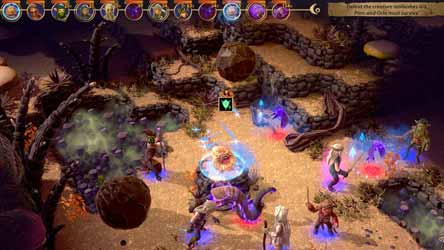 The game is set on the vibrant world of Thra, where innocent Gelfling lives are consumed for their essence by the nefarious Skeksis. Unite the Gelfling tribes and drive the rebellion to success, or defeat... Units can be customized for specific fights with unique gear and varied abilities across an expansive job system. Use guile, planning, and cunning to overcome superior foes. Thra is full of unpredictable environments, from arid deserts to lush forests, as dangerous as they are beautiful. Dynamic events on the battlefield may create opportunities or pose additional complications, necessitating rapid changes in strategy.
In the early stages of the game I was a little concerned that some of the enemies had a rather unfair habit of being able to kill your characters with a single blow (obviously the main Skeksis characters are very powerful) but to introduce them at such an early level was a little frustrating. I was attempting to slowly move all my characters to the exit without any of them dying. Little did I realise that you only had to get one to the exit in order to end the level.
The graphics and music are beautifully realised, but this is a game that treads very familiar ground. Slapping The Dark Crystal skin on everything doesn't make for an engaging The Dark Crystal game, I'm afraid. This will only really appeal to fans of the film and TV series who are not huge turn-based RPG fans already.
I can't help think this was something of a missed opportunity. The creators had a chance to deliver something truly original for fans, but instead deliver a pretty mediocre RPG. As fun as it is, I can't help feeling that most will get bored of it very quickly.
6
Nick Smithson