Moving Out

Format: Xbox One
Publisher: Team17
Developer: SMG Studio / Devm Games
RRP: £19.99
Click here to buy from Xbox Marketplace
Age Restrictions: 3+
Release Date: 28 April 2020
Are you ready for an exciting career in home removals? As a newly certified Furniture Arrangement & Relocation Technician (FART), you'll take on moving jobs all across the town of Packmore. Smooth Moves may not be the biggest moving company, but there's no task too dangerous or strange for this busy team of go-getters. Grow your business to brave new heights, recruit colourful customisable characters, and save your town from furniture peril...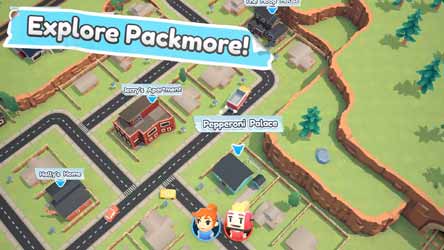 Moving Out is a ridiculous physics-based moving simulator.
Over the years I've had numerous mundane jobs including paperboy (Paperboy), binman (Trashman), miner (Manic Miner), plumber (Mario Bros), laundry attendant (Mr Wong's Loopy Laundry), taxi driver (Crazy Taxi) and even a kick ass street fighter (Street Fighter) all through the medium of computer games. But up until now, I don't think I've ever played a game where I worked for a removals company.
Moving Out is a ridiculous physics-based moving simulator that brings new meaning to "couch co-op"! You can play the game in solo mode or with up to three other friends. But don't play it with people that you want to remain friends with. It's probably best used as a subtle way of breaking up with your partner... for Moving Out revolves around communication and team work... but a form of this skill that mankind is not yet intelligent enough to master.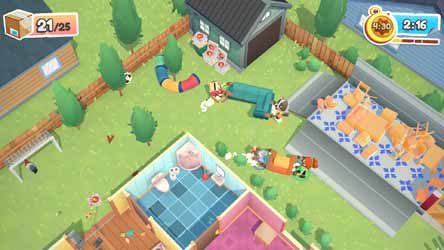 Move household items out of the house and into your truck.
You start off driving to your first job and when you get there you are tasked with getting a certain number of household items out of the house and into your truck. You only have a limited amount of space in your van, so it's essential that you put the big items in first and then just throw the small items on top later... unless you fancy a last minute panic trying to rearrange everything you've already packed.
Trying to do this is difficult enough, without adding in obstacles and creatures that will get in your way... oh, and you're up against the clock. Now, to start with everything is pretty straightforward and it's just a case of running around like a headless chicken, picking up anything within sight before hurling it into the van. But, as the levels move forward you're really going to have to have a sound strategy. In solo mode it's not too much of an issue, but in co-op you'll be struggling to jointly pick up and move the larger items, as well as shouting at your teammates for constantly getting in your way. And when some of the items have a mind of their own - refusing to stay in the van - you'll be turning the air blue with language you never realised you knew.
Smash valuable items, break windows, destroy twee picket fences... it doesn't matter as long as you throw everything into the van as quickly as possible. When you complete each level it opens up a number of additional challenges. These range from rewarding you if you don't break any windows, to giving you extra points for shooting hoops in the yard. From time to time you'll also open up mini games which can be played by travelling to the amusement arcade.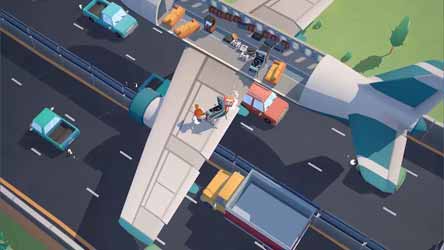 It's fun for anyone and everyone to play.
It's fun for anyone and everyone to play. My wife, who used to kick my arse on Doom back in the day, hardly plays games these days, but she was itching to play this... and she beat my scores instantly.
This is a hugely fun, cute little game that represents about the most engaging clean family entertainment you can get these days.
8
Darren Rea