Skelattack

Format: PS4
Publisher: Konami Digital Entertainment
Developer: Ukuza
RRP: £15.99
Click here to buy from store.playstation.com
Age Restrictions: 7+
Release Date: 02 June 2020
Being dead is not so bad when you have the Underworld to live in. A magical world inhabited by quirky, charming and sometimes deadly inhabitants of the afterlife, the Aftervale is where the dead spend eternity and come to terms with their time alive through a Remembrance. For our hero Skully, Remembrance day comes crashing down as humans invade from the kingdom above. They kidnap the Aftervale's elder skeleton Elzedon then go after the very magic that kindles the spirits of the dead, the Blue Flame. Jump, slash and flap your way through the Underworld together with your best bat friend Imber. It's up to you to stop the human invasion, save the Elder, protect the Blue Flame and confront Skully's past life...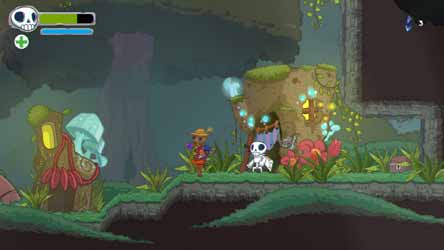 Skelattack is an old skool, 2D platform game with hand-drawn environments and animation. This, just about above everything else, is what gives it its charm. It has a great sense of humour too... but be warned the game play is unforgiving and you'll spend a lot of time getting frustrated with its punishing environments.
The early stages of the game see you strolling around Aftervale, with its shops. You can't do much in these until later in the game, but popping into the tavern or the magic shop is worth it just to familiarise yourself with the locations.
Then you're off into the underworld jumping around the levels in the caves and sewers far beneath the surface of the earth, avoiding crocodiles, fighting warriors and collecting any blue flames (spirits of the dead) he comes across.
Another positive element is that the environments are constantly changing, as you progress through the levels, so you're unlikely to get bored of your surroundings.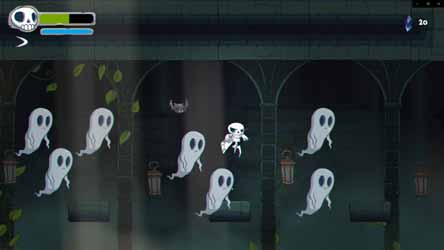 It's a far cry from the usual platformer where the gamer plays as the human hero. Here you play as one of the creatures, fending their land from the invading human threat. As a newly deceased member of the Underworld and resident in the happy hub of Aftervale, Skully is just getting the hang of being dead and coming to terms with being a skeleton. As he prepares for his Remembrance to understand who he was in his past life, Skully finds himself in a fight to protect his home from plundering humans from above.
There's much to see and enjoy here, especially if you're a fan of old fashioned platform games. However, for the younger generation, as much fun as this is, it may be a little too frustrating to keep you coming back to try and progress to the next stage.
6
Darren Rea